On Poshmark, past the lululemon belt bags and the Starbucks tumblers you'll find something spine chilling, absolutely frightening.
No, we are not talking about the tighty-whities Manish Chandra bought on Poshmark, we're talking about the most haunted and downright oddest things on Poshmark.
Out of millions of listings on Poshmark, we've found 13 of the strangest and dare I say, HAUNTED items on Poshmark.
Now, without further ado, Posh Sidekick presents to you, the 13 Oddest items on Poshmark.
The 13 Oddest Items on Poshmark
1- Box of Bones
Sold by: oddballoddities
This…how do I begin, where do I begin…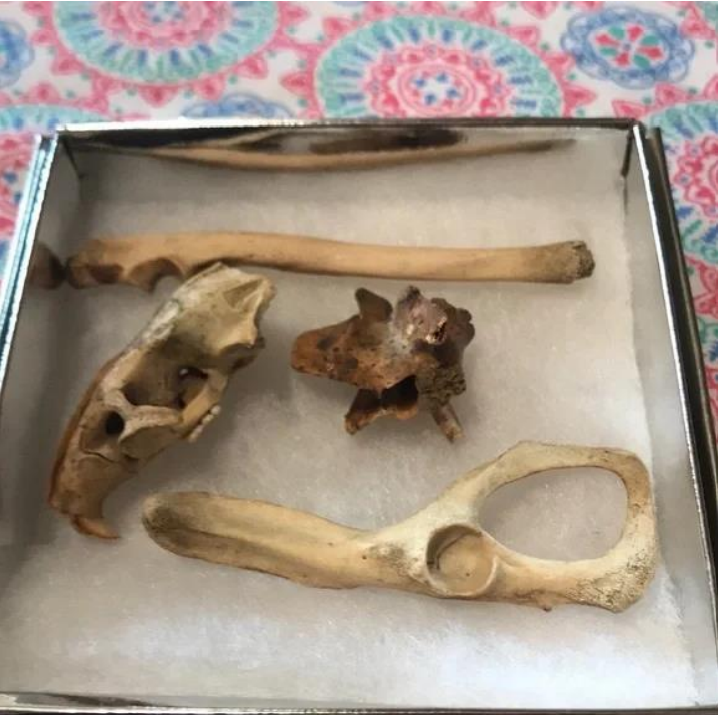 Photo Credit: oddballoddities
Well, um it's a box of unidentified animal bones, which have been "humanely-sourced" and bleached.
I'm sure this will stuff someone's stocking this holiday season.
2- Pair of Vintage Haunted Dolls
Sold/Photo by: emstevens13
The seller's description says it all. In fact, it says more than enough.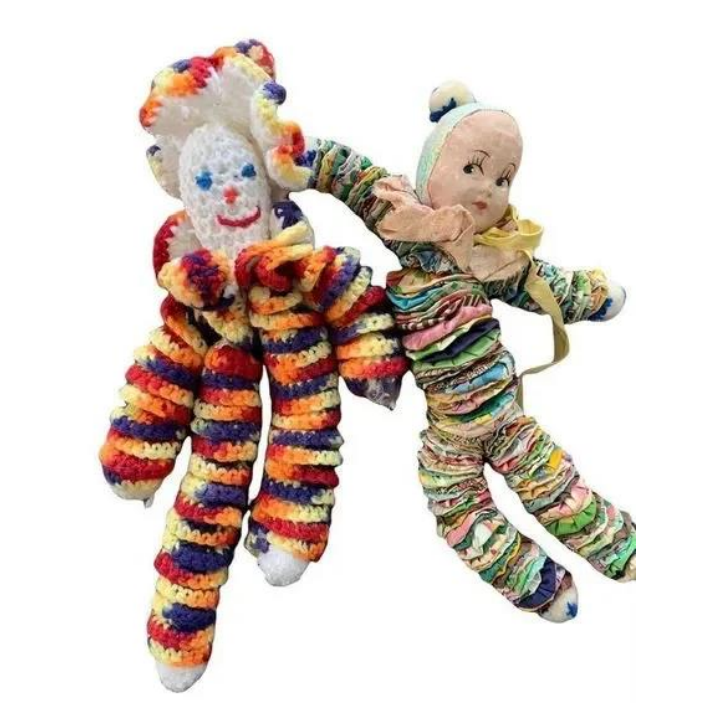 "Vintage haunted doll and terrifying clown pair". Handmade and Great for decor.
I'm assuming they are insanely haunted. Because, look at them.
The dolls face. Nightmare. Who made these? Why?
Endless terrifying possibilities"
3- Ouija Board from 1972
Sold/Photo by: socothrift
What's scarier than the no-return policy on Poshmark?
Summoning demons since 1972, you too can have guaranteed nightmares.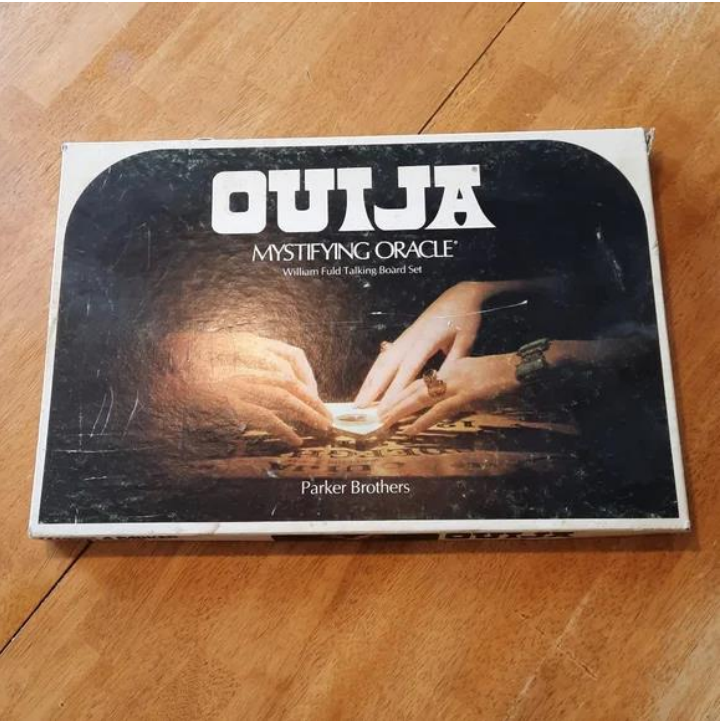 If you're not familiar with the mystifying oracle game of "Ouija", let me explain.
You and another player lightly place your fingertips on the "planchet" you know that thing that looks like a tortilla chip and, somehow it will begin to move on its own, connecting you to the "other side".
Is it real?
Well, it's STILL available for sale, I guess you should buy it and give it a go!
4- Zombie Raggedy Ann Doll
Sold/Photo by ginkgo_girl
Honestly, as if the original Raggedy Ann wasn't horrifying enough.
This handmade, stitch-faced doll just screams "I'm haunted", and… "I move while you sleep" vibes.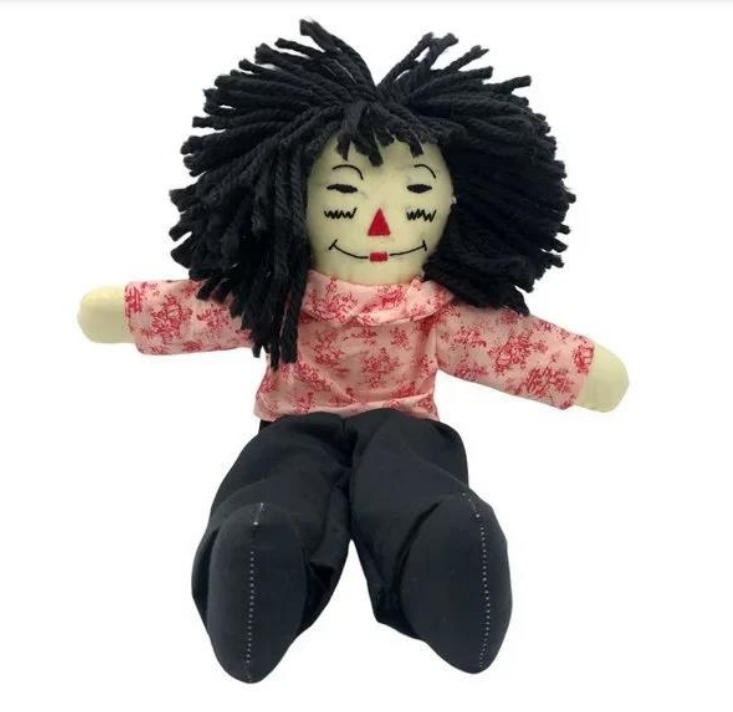 "Homemade Raggedy Ann doll is now a zombie. Pale green cloth skin with blood vessels visible under her face.
She can sit forwards and backwards. A creepy half-smile smirk completes the look.
She is wearing a collared toile shirt, hook and loop fastenings. Black trousers. 14″ tall. Not sure if she is haunted, but she definitely has a great creep factor going on.
Perfect for collectors of the macabre or anyone wishing to add to their unique doll collection. "
5- Talking Teletubbies Doll
Sold/Photo by: jetset_trends
So, this thing talks and laughs…I refuse to save the video to my PC just in case this really is haunted. Checkout the listing video here!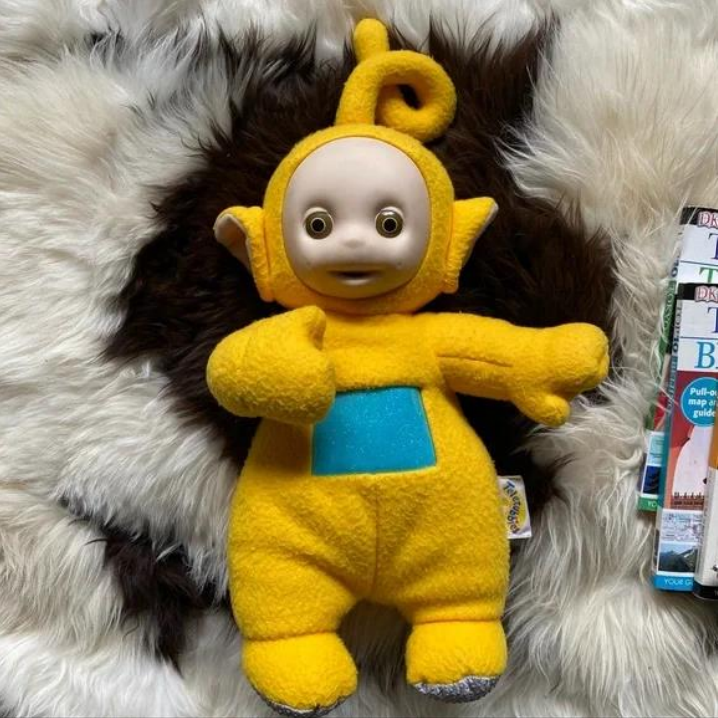 Something about those nostalgic toys that have a creep factor. This yellow Teletubbies aka Laalaa AKA Hell nah, is still available for sale and works great!
6- Victorian French Provincial Hairbrush
Sold/Photo by: ladylux3
Imagine finding hair from 100+ years ago!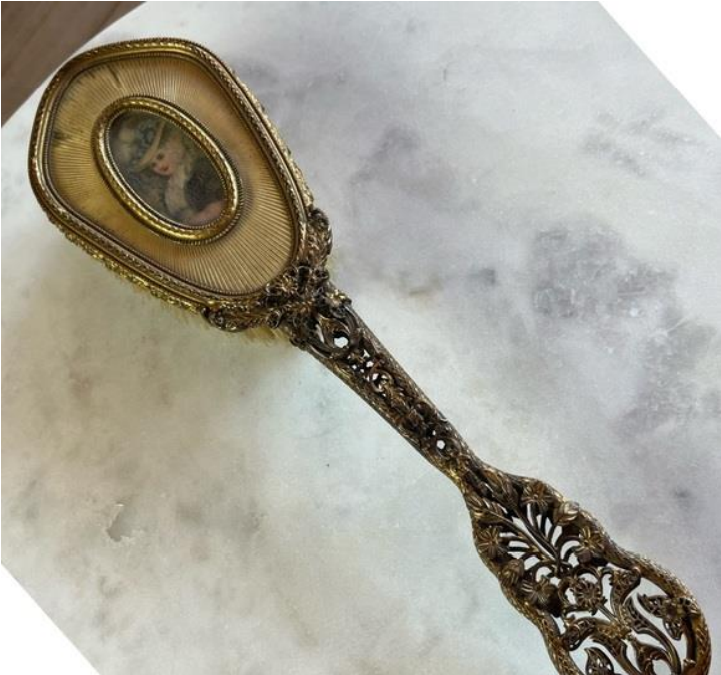 Absolutely haunting in the most beautiful way.
This is not today's "wet-brush" this brush is from 100+ years ago. Just think, who did this belong to?
What were they thinking while brushing their hair?
7- Vintage Art-Deco Rotary Phone
Sold/Photo: bobaattics
There's nothing more haunting than messing up a number and having to start all over again.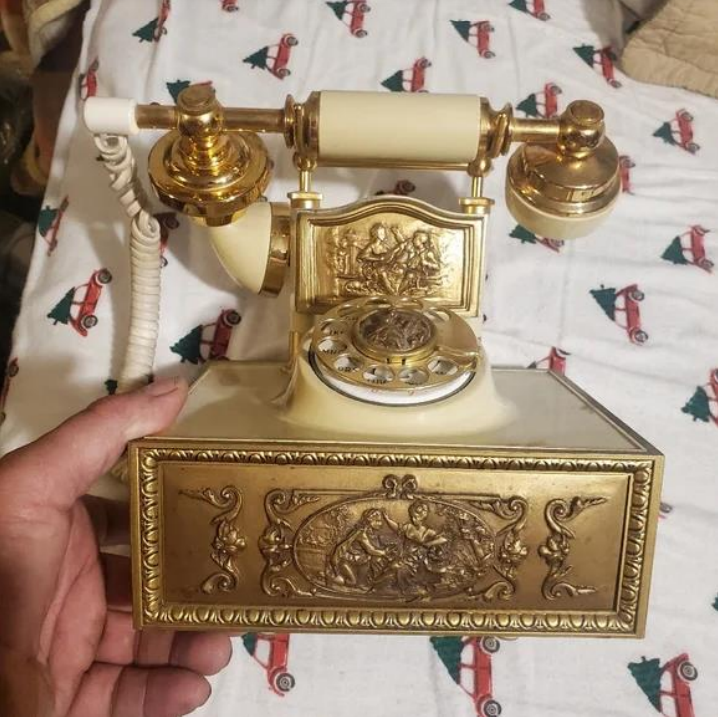 This vintage rotary telephone looks like it dates from the 1980s.
It's made to look like an antique style European phone with gold relief designs around the base and on the handset holder.
Though they look like metal, they're actually made of plastic.
Also plastic is the main body of the phone, which is an ivory color.
There are shiny brass-colored accents on the dial and handset.
This phone has been tested and works perfectly so, grab it while it's still available!
8- Handcrafted Colorful Detailed Wooden VooDoo Doll
Sold/Photo: jrbenefield
I think we all have a few people we'd like to use this on…right?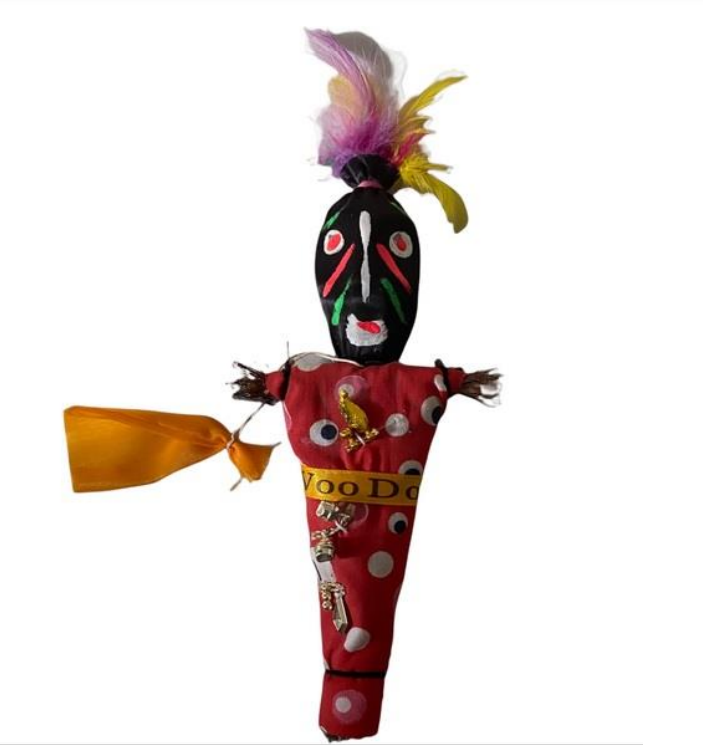 "Handcrafted Colorful Well-Detailed Wooden VooDoo Doll with Sack and Red Dress with a Gold Belt with Spell Out VooDoo. Papa Legba. This doll is preowned and in very good condition."
I guess the cool thing about this item is that it's USED…
PERFECT for Manish Chandra's "Secondhand Sunday" movement!
9- Heart-Shaped Urn
Sold/Photo by: jbm914
Just in case you died of FRIGHT, half-way through this                                                                                              blog…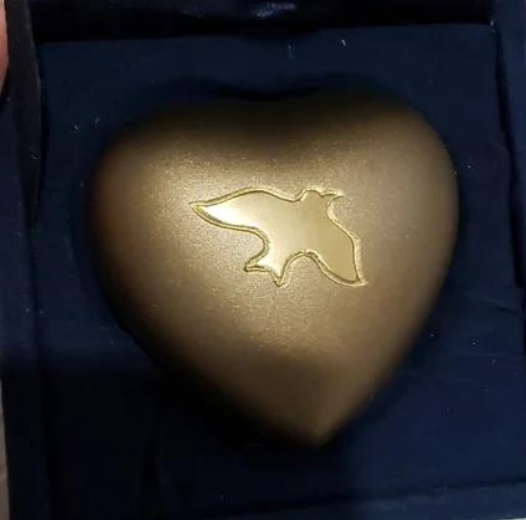 "Going home dove small heart keepsake urn is hand made with quality brass by our skilled craftsmen. Heart urn is used to fill the ashes of your loved one securely and can be used as home decor. Mini heart urn comes with brass matt/nickel stand & nice-looking velvet box. The cremation urn looks beautiful in the heart shape doves engraved with teal finish and measures 2.85″ inches (approx) in size. The memorial small heart urn can store the token amount ashes of adults, child and pet Add ash through the cap on the back of the heart keepsake."
10- Genuine Vintage Alligator Handbag Made in Cuba
Sold/Photo by: masquerades
I can't wait for this one to arrive at Poshmark Authenticate…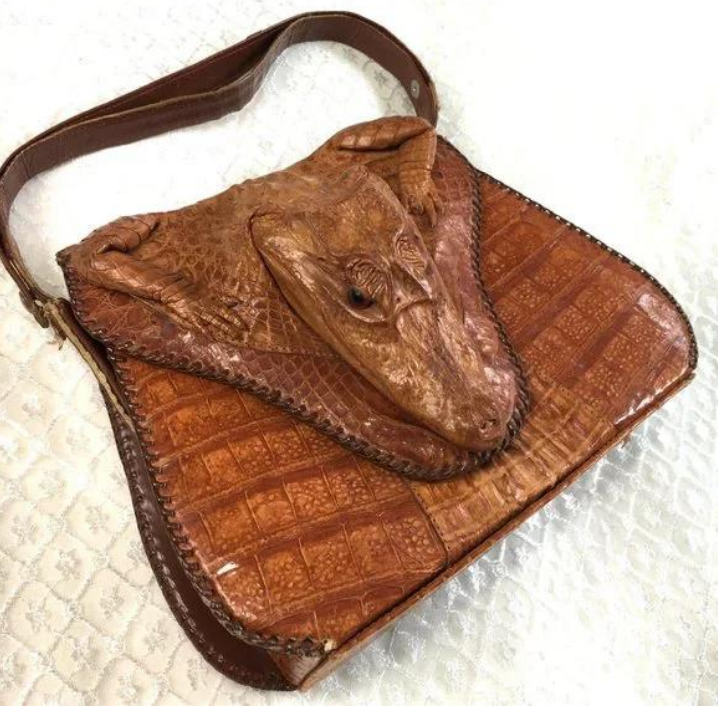 Looking to up your Lululemon belt bag game?
I don't know, maybe it's the glass eyes or the fact that it's an entire animal but, I'm going to say this alligator handbag is the oddest thing I've found on Poshmark.
11- Stuffed Taxidermy Vintage Saint Bernard
Sold/Photo: lizardgutz
This is the true definition of "Death pile" just NO!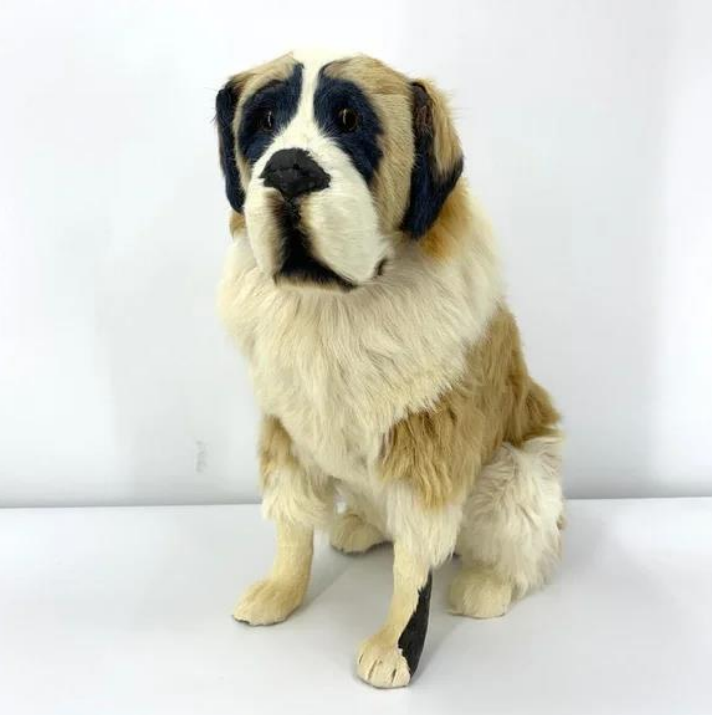 Listen, I'm not here to judge people, you like what you like…HOWEVER…I need to know, WHY THIS!?
This horrifying taxidermy Saint Bernard dog is available on Poshmark.
'Real Rabbit Hair great as a display piece or for an Elderly Companion. Leather bottom Not washable 17"" tall 17" long 7" wide Has wear/ damage on nose and wear on paws paws, fur section missing on front foot. Fur loss on ears Please see pics and let me know if you have any questions"
Um, I think we ALL have many questions @Lizardgutz.
12- Half Barbie Half Racoon Dolls
Sold/Photo: anthonyschild
I know what I'm gifting my bestie this holiday season!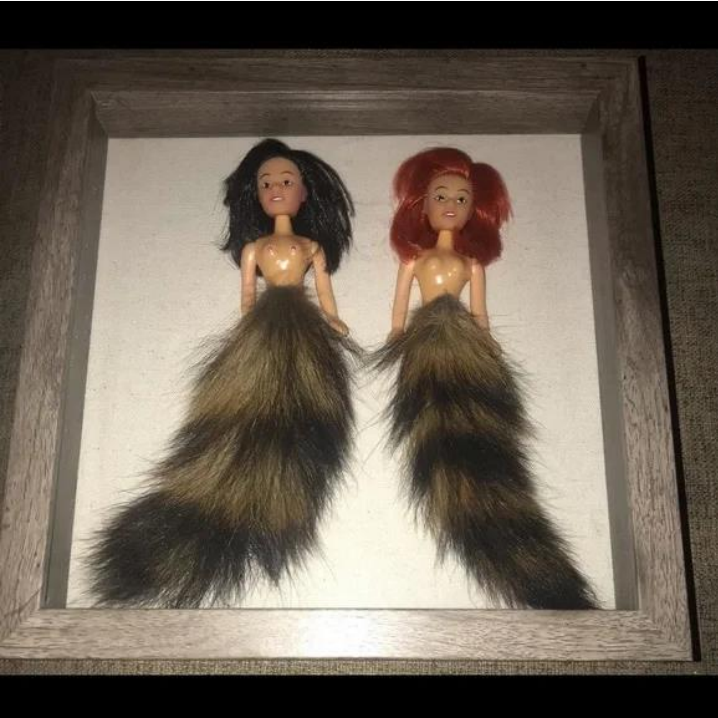 Move over Ariel, these artistic/creepy/horrifying dolls are now part of our world.
"Vintage Barbie Doll Mermaid Sisters/Friends Raccoon Tail Taxidermy Art Goth Rustic Oddity Curiosity Home Decor with Gray Wood Shadow Box Frame (animals died of natural causes) 10" H x 10" W x 1.75" D"
Now, if you're still with me and you haven't blacked out in sheer horror, we have our last but not least, haunted, creepy, WTF Poshmark listing.
13- Vintage Deer Hoof Ashtray
Sold/Photo: gladysqkravitz
And just like that, I quit cold deer hoof…I mean turkey…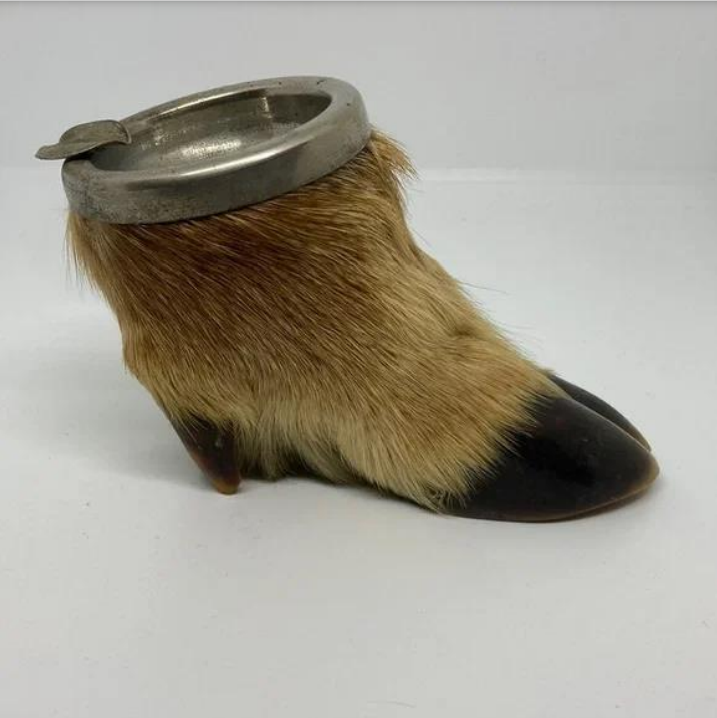 "This is a strange piece but stranger still is that I bought the matching lighter and gave it to my friend 35 years ago"
Alright guys, I am truly at a loss for words. The longer this blog went on, the less and less I could type. Thanks for sticking around and having a fun read.
Comment below the weirdest listings you've seen on Poshmark. Don't forget to share this blog
with your friends!