In today's highly competitive Poshmark marketplace, many users feel overwhelmed with the amount of sharing required to stay afloat and get their merchandise seen. Poshmark bots, at one time merely a fancy, have become something of a necessity for the busy lives of many Poshmark users. 
To help out those hard-working and dedicated Poshmark sellers all over the web, we decided we'd go in and write the ultimate 2023 guide for Poshmark bots. We scoured the web for the best Poshmark bots, looking for bots with reasonable prices and, most importantly, valuable features.
We wanted to be all-inclusive. We considered the sellers who like interfacing with the Poshmark App and just need a bot to do some extra work, but we also considered the sellers who want a Poshmark bot to do nearly everything on the app for them, like a little virtual assistant. 
Poshmark has a long history of bot use, which means that there are a lot of bots on the market. To keep things reasonable, it was necessary to eliminate bots that didn't seem useful or that, for example, offered the same features as another but were more expensive. 
That said, we also tried to give our readers a sampling of the best kinds of bots for each of the many bot niches on Poshmark. 
In this ultimate Poshmark bots guide, we're going to run down the basics of what a Poshmark bot is, why you might use it, and whether Poshmark bots are technically illegal. We'll wrap up with a comprehensive overview of our "seven great" Poshmark bots and a FAQ Guide.
Ready to go? Here is your ultimate Poshmark Bot 2023 guide.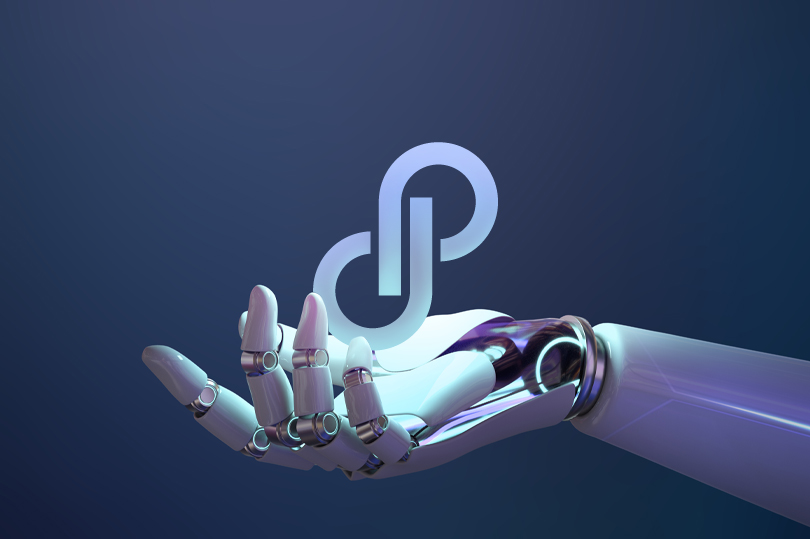 What Is a Poshmark Bot?
While the existence of bots on the web is a reality of life, some Poshmark sellers are surprised when they learn about the existence of Poshmark bots. A Poshmark bot is an application, either a plugin on a browser or a separate software, that automates some of a seller's work on Poshmark. 
When Manish Chandra founded Poshmark in 2011, he founded it as a social marketplace. The vision, still vibrant today, is that Poshmark would become an all-inclusive community of sellers where big businesses and small-time thrifters have an equal chance of success.
With this in mind, many might argue that a Poshmark bot shouldn't be allowed—it gives those who have a bot an unfair chance of success. 
While it's true that a bot makes life easier for the seller, consider the fact that not all sellers are single-person operations on Poshmark. In some cases, entire families work on their Poshmark business together. They say you shouldn't have too many cooks in the kitchen, and yet two cooks have something that one cook never will: hours in the day. 
Efficient use of time becomes especially important when you consider that Poshmark isn't one thing; it's two. While sourcing merchandise is an important aspect of being a seller on Poshmark, Poshmark is a community. No Poshmark seller can afford to overlook the social aspect of the app.
According to one seller, over 75% of her sales come from repeat buyers. What does this mean? Poshmark, for most buyers, is more about community and bonds than transactions. A successful seller on Poshmark, then, can integrate their community-face with their commerce face. This means self-promotion and community engagement allied with a mind for sales and fashion trends. 
To keep up with the two-faceted, fast-paced demands of Poshmark, many sellers turn to bots. These bots can help out with the social aspect of Poshmark while you focus on fashion. 
Are Poshmark Bots Allowed?
On February 27, 2021, a curious listing appeared on Poshmark. In it, the user claims, "SHARE JAIL IS REAL!!!! [sic]," going on to describe how Poshmark will block a user from sharing if they've already exceeded the hourly minute.
The service allows a few hundred shares per hour, though the exact number is not specified. The number of allowed shares per user per hour decreases during the nighttime. This isn't the only mention of "share jail." Poshmark users across the country, including this Poshmark ambassador, agree that the share jail is real.
How does this relate to Poshmark Bots? The Poshmark team designed their website to prevent abuse and oversharing from things like bots. They also developed their server to prevent unattractive self-promotion. Let's take a look at the Poshmark community guidelines.
"Be yourself," the Poshmark community guidelines tell us. Poshmark also lists "spam and excessive self-promotion" as unattractive and unwarranted, finally saying, "please refrain from partaking in such behavior."
While Poshmark later overtly addresses the issue of bots, they say here to "be yourself." How are we supposed to read this? An extremely conservative definition of "being oneself" would mean bots are not allowed. At the same time, though, as we mentioned above, no one would object to a two-person family team working on a single Poshmark site together.
Furthermore, if a person writes a post and uses a word processing software to spell check and grammar check before they post, would we claim that the user isn't being themselves? Does Poshmark mean to disallow all automation from its sellers? 
The answer is no. A Poshmark user employing a bot to take a little of the load is still them being themself. So long as the bot doesn't shamelessly and excessively promote the user's page, a bot should be allowed.
What Does Poshmark Say About Automation?
Further on down the Poshmark community guidelines, Poshmark writes: 
"Do not use programs or other forms of automation to participate on Poshmark. This includes, but is not limited to liking, sharing, following, and unfollowing."
Our readers might notice an inconsistency here. Poshmark is proud of its community. On the "our community" tab of the website, Poshmark lists Shaun Bartley second on the list of successful community members. 
His description describes how he, his mother, and his wife all work together on his Poshmark store, sourcing, sharing, and liking. Throughout the community, we see examples of family teams working on Poshmark together. 
Okay, you might be saying, those are people. We're talking about bots. However, Marshall McLuhan, a noted media scholar, writes in his groundbreaking Understanding Media: The Extensions of Man that rather than being other than us, tools like robots are, in fact, extensions of ourselves. 
Much like a hammer or other tool, a robot extends the reach and power of our bodies. This is no different, as we mentioned, than using word processing to correct your spelling or, significantly, using the highly automated Poshmark to help you sell your items.
Now, while we've set aside our moral and ethical qualms about using bots to help our Poshmark sales, we don't want to incur the wrath of violating Poshmark's community guidelines. Further down the page, we find the "Penalties" section.
Under penalties, Poshmark writes that a user can have their account disabled permanently or temporarily for violating community guidelines. We see that sellers whose violations are not very severe (like, for example, sharing too often) typically get an email or a temporary ban. Recurring bans can lead to permanent disabling, as can things like sending inappropriate messages to users. 
At the end of the day, you really can't game the Poshmark system. If your bot is doing more work than the server thinks it should be doing, your account will go into share jail. Going into share jail once is no problem, but you don't want to make a habit of share jail.
Poshmark Share Jail: A Brief Rundown
The internet is rife with information about share jail from users who can talk about their personal experiences. This Poshmark bot controversy has kept many users from using a Poshmark bot. 
Here are the basic things we know for sure about share jail:
Poshmark allows a few hundred shares per hour. The exact amount is unknown.
During the nighttime, shares per hour are further restricted.
When a user is put in share jail, they are prohibited from self-promotion. The length of time for share jail is dependent upon the severity of the infraction. 
Share jail ends at the top of the hour. 
If a user is in share jail, they won't know it. Their shares simply won't be successful.
On the PC, the user will get a message saying they shared successfully; however, no share will go through. On iOS, the user will get a message saying, "Error. Try again."
Why Do People Use Poshmark Bots?
We've outlined the dangers of share jail above. Getting blocked from sharing might, for some Poshmark sellers, seem like the death of their business. 
Using a Poshmark bot doesn't mean share jail, though. The best Poshmark bots on the market are made to abide by the community guidelines, merely making your job easier so you can focus on what makes your business yours. The most common reason people use Poshmark bots is to save time. 
Your time is valuable, and most people don't have a whole family who can help them out with their Poshmark business. If you spend time reading about the Poshmark Community, you'll see that some people spend their whole day driving around to thrift stores to source items for their closets. 
If you're busy thrifting, do you want to spend your downtime sharing numbly and mindlessly? Get the bot to do it! 
A good Poshmark bot will also help you gain followers. As we discussed above, one of the mortal sins in the Poshmark community is brazen and spammy self-promotion. Self-promotion within reason is fine, but there can be too much of a good thing.
 A good Poshmark bot will help you gain followers by, among other things, following other users and sharing their closets instead of your own. This kind of selfless activity is sure to gain fans in the Poshmark community, and having more followers means having more people notified when you drop a new item from your closet.
Another reason people get Poshmark bots is to help their bottom line. For many sellers on Poshmark, Poshmark isn't their only source of income. They make their money in a variety of different ways, and a good Poshmark bot will help you stay afloat by helping pack in a lot to a tight schedule. Once again, this is where financially independent people have a leg up.
Some people can spend their time developing a Poshmark business. Others are always hustling. A bot can help keep things even, a process we already see happening in other fields.

Poshmark Bot Guide: What to Look For
A simple Google search shows many pages of Poshmark bots that are available. Some of them are free, while some of them require a subscription. Many exist on your browser as a plugin, while some are downloadable software. Some have huge features lists, and some are very rudimentary.
Like much tech, Poshmark is regularly updated. A Poshmark bot that was good in 2018 may just not cut the mustard in 2023. A Poshmark bot provider, then, needs to stay up to date on Poshmark's changing features. 
Consider, for example, Poshmark's Offers to Likers feature. This feature, which first debuted in February of 2018, quickly changed the name of the Poshmark game for many sellers. The ability to make, as Poshmark puts it, "private flash sales" became an important way to drive inventory. A Poshmark bot provider must be up-to-date on the current Poshmark trends.
Before we get into the 2023 ultimate Poshmark bots guide, let's take a look at what kinds of things we considered when deciding which Poshmark bots were the best.
CAPTCHA compatibility. Anyone who has been on Poshmark for a little while will be familiar with the app's common CAPTCHAs. A good Poshmark bot will be able to solve CAPTCHAs before going on other tasks. We wanted to look especially at bots' relationship to CAPTCHAs: bots can work around CAPTCHAs, but if this happens too often, users can be put in share jail by Poshmark's algorithm. 
Up-to-date on best practices. As we mentioned above, a bot provider needs to be up-to-date on the best current practices with Poshmark. They should also have enough experience to understand what Poshmark's conditions are to keep your account out of share jail.
Smart and intuitive. As we looked at Poshmark bots, it was important to us that they were intuitive. We wanted Poshmark bots that had a strong machine learning bent, possibly utilizing algorithms to observe trends and adapt.
Easy troubleshooting. Sometimes robots malfunction. Occasionally, we want to change the settings but don't know how to do it. Not every Poshmark user is a Silicon Valley tech whiz; many of us are ordinary people with an average-to-low tech IQ. We wanted a bot that was easy to figure out, but we also wanted to find a company with easy-to-contact customer support.
Other Considerations for Your Poshmark Business
The four points listed above were non-negotiables for us. There are some other considerations, though, that we wanted to mention.
Where the Bot Runs
Most Poshmark bots run directly from your browser. This is great because then the activity of the bot appears to be coming from your IP address. 
Sometimes new Poshmark users decide to go for a human being and hire a virtual assistant. While not all virtual assistants are bad, sometimes a sizeable virtual assistant firm can get a Poshmark user into trouble. Why? If one virtual assistant manages many accounts, all from the same IP address, Poshmark's algorithm is very likely to flag that as suspicious. 
The same can be said for Poshmark bots. Some Poshmark bots don't operate on your browser but rather share from a separate IP address. While this doesn't necessarily spell share jail, you need to be careful and do your research about Poshmark bots like these. Or at least we do (and did).
Analytics
Bots that run analytics on your sales and lead interactions allow you to assess what content is hitting the mark and what content isn't quite rising to the occasion. Not all bots run analytics, but the average seller can learn from what a bot uncovers.
Mobile App Facility
We know that many users prefer to use their phones to deal with Poshmark. Interestingly, many Poshmark bots operate only on your browser. While it's not a deal-breaker if your bot only operates on your browser, we wanted to look for the Poshmark bots that were a little more flexible.
Automation
Some Poshmark bots have a lot more automation than others. We wanted to bring in a healthy mix, understanding that every Poshmark user is different. 
Chrome Extension
Many a Poshmark share bot exists as a Chrome extension, but there are reasons to be wary of this. Having your Poshmark share bot or Poshmark follow bot as a Chrome extension leaves you tied to your computer. Because most users keep their entire Poshmark closet on their phones anyway, it's nice to have a closet assistant that runs on your phone.
Poshmark Bots Ultimate 2023 Guide: Top 7 Poshmark Bots
With everything we've mentioned in mind, let's get started with seven of the most popular Poshmark bots on the market. All of these Poshmark Bots have been proven to help users increase sales, but not all bots are created equal. We'll look at the good and the bad, helping you to pick the best Poshmark bot of 2023.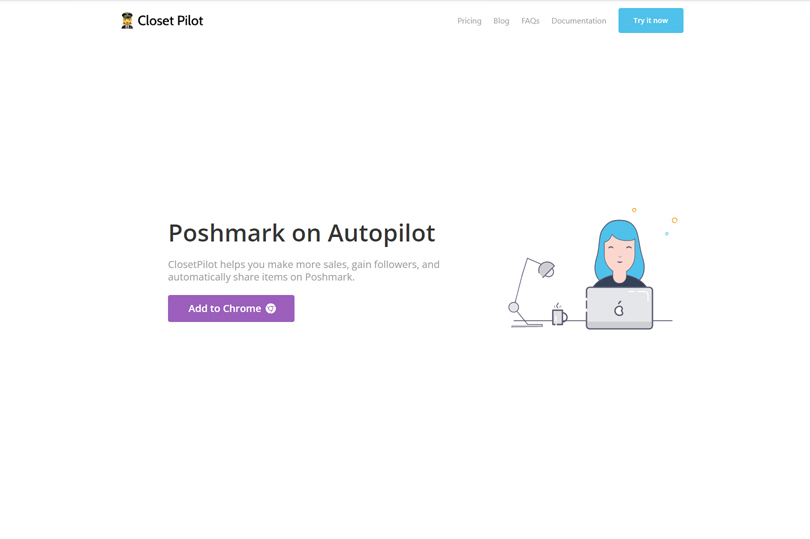 ClosetPilot is one of the most consistently advertised and thus widely known bots on the market. As such, it was the first bot we wanted to try out.
All told, we thought that ClosetPilot had a really solid Poshmark bot with a highly accessible format and engaging customer service. They're constantly staying on top of the latest Poshmark trends and keeping their users up-to-date on best practices.
Those who download ClosetPilot need to interact with it every day: although the bot can automatically share items from your closet, you need to tell it when to do so. ClosetPilot can also follow other Poshmark users to help you get follow-backs. This means more sales.
Poshmark sellers can use ClosetPilot as a Google Chrome extension or an Apple iOS app for iPad or iPhone. With a limited-function free-forever pricing tier, anyone can try out ClosetPilot to see if it's the right Poshmark bot for them. If you want to try out the app in all its glory, ClosetPilot also offers a seven-day free trial for its premium service.
ClosetPilot deals with CAPTCHAs by notifying you when there's a CAPTCHA to fill out. If you don't want to be notified and have to do a CAPTCHA many times a day, you can integrate ClosetPilot with 2CAPTCHA, a 3rd-party automatic CAPTCHA solver.
ClosetPilot keeps its eyes on all the trends of Poshmark. Sean from ClosetPilot, the creator whose mononymous name reminds one of those old mystics from ancient times like Heraclitus of Ephesus or Ammonius of Alexandria, also seems to have the cutting vision of one of those lost sages.
In July of 2021, for example, a post on the ClosetPilot blog described an unexpected issue with Poshmark's algorithm. In the emergency post, Sean recommends all ClosetPilot users refrain from following for the time being until he's able to figure out a workaround. We like the personal and accessible nature of this kind of post and the insight it signals.
ClosetPilot customer service is very accessible. ClosetPilot customers can contact them by messaging any of ClosetPilot's social media accounts or by submitting a request for support on the Chrome Extension Store.
There are a lot of highly complementary ClosetPilot users that have posted reviews online, a good sign for ClosetPilot.
One user claimed she went from a skeptic to someone who "absolutely LOVES" ClosetPilot, noting its ability to help her save time on her project. On the Apple Store, one describes ClosetPilot as a "Life Saver!"
Though ClosetPilot seems to have it all, some users report more problems than others. Some have claimed that the app landed them in share jail, while one user wrote angrily on an online forum that customer service was difficult to get in touch with.
As an App that's user-activated, ClosetPilot isn't as automated as some; that being said, this manual will likely, in the long run, keep more users out of share jail.
ClosetPilot Overview
Highly flexible service with lots of options for saving your time. Manually sharing remains an option.
Pricing: Free forever tier allows 100 shares per day. The premium tier is a $29.99 monthly subscription and allows unlimited shares per day.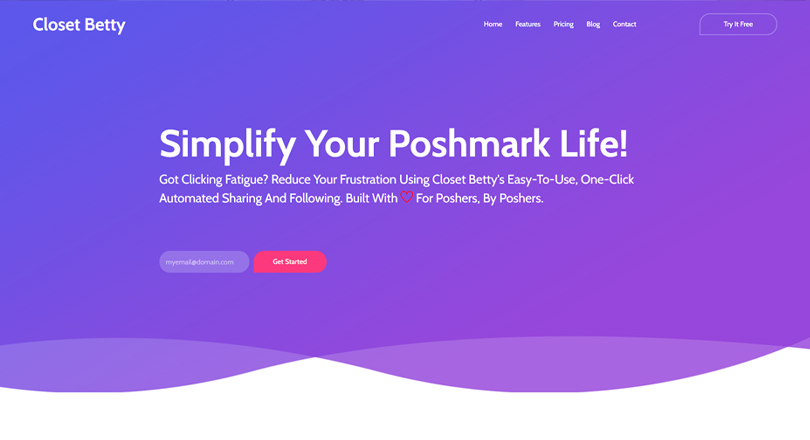 Closet Betty is, in our estimation, a regularly underappreciated Poshmark Bot. Made to work exactly like a human clicking around and scrolling through a browser window, Closet Betty is a very difficult-to-detect Poshmark share bot that automates tasks but performs them in the same manner as a human being.
Unlike some of the Poshmark bots on our list, Closet Betty doesn't have an app; it's only a Google Chrome extension. From Chrome, though, Closet Betty can automatically share your closet now or in the future. The extension offers one-click follows (follow all the users on other Poshmark users' follower lists), one-click follow-backs, and closet refresh functionality.
For users looking to try Closet Betty out, a three-day free trial gives you an haute cuisine-style taste of the service. After that, you'll need to fork over the cash if you want to continue using the service.
As Closet Betty is a Google Chrome extension, the service allows its users a little less flexibility than, say, a service like ClosetPilot that runs on an app. Closet Betty can't solve CAPTCHAs on its own, which means you need to be standing by when your Closet Betty asks you to solve the CAPTCHA. 
We love the way Closet Betty focuses on making sure its users know everything they should about current trends in Poshmark use. Their free blog is full of useful information that can help any Poshmark user, even if you decide not to secure the services of a Poshmark bot at all. 
Some users online have claimed disappointment over what they describe as inferior customer service compared to other similar apps. To get support, users are supposed to email support@closetbetty.com or get in touch with them through the form on their website. 
Despite the squeaky wheels on review websites, reading the reviews on the Chrome Web Store, one can see that Closet Betty is very quick to respond to comments, both positive and critical, thanking the user or asking them if Closet Betty can rectify the damage in any way.
One of the most common complaints concerning Closet Betty is that users can't get the service to work on their phones at all. As Closet Betty will be the first to tell you, the service is not intended for use on the phone. 
As far as customer reviews go, most of the negative reviews are from users who never opened the service. They either couldn't figure out how to verify their account, or they mistakenly chose to skip the free trial and, as a result, paid the premium to try out the service.
Reviews also mention it is very difficult to unsubscribe from the Closet Betty Service. This is common practice with tech companies, from Amazon to all the social media sites. Let's not pretend to be surprised when companies want to discourage unsubscribing in 2023.
As for the positives, users generally say that Closet Betty saves time. They love the scheduled share feature, noting that it helps their workflow during busy times.
All said, Closet Betty is a very solid Poshmark bot with just a few downsides.
Its inability to go mobile and lack of a CAPTCHA-solving capability means you'll essentially have to stand by your bot while it's working at all times. The three-day free trial is pretty weak as far as free trials go, and users who don't need to make hundreds of shares a day will find the service overpowered for their needs. 
Closet Betty Overview
Quality service is limited to the Google Chrome extension with lots of time-saving capabilities but no middle-ground option for sellers with less-than-full-time activity on the app. 
Pricing: Three-day free trial; afterward, all-inclusive service is $29.99/month.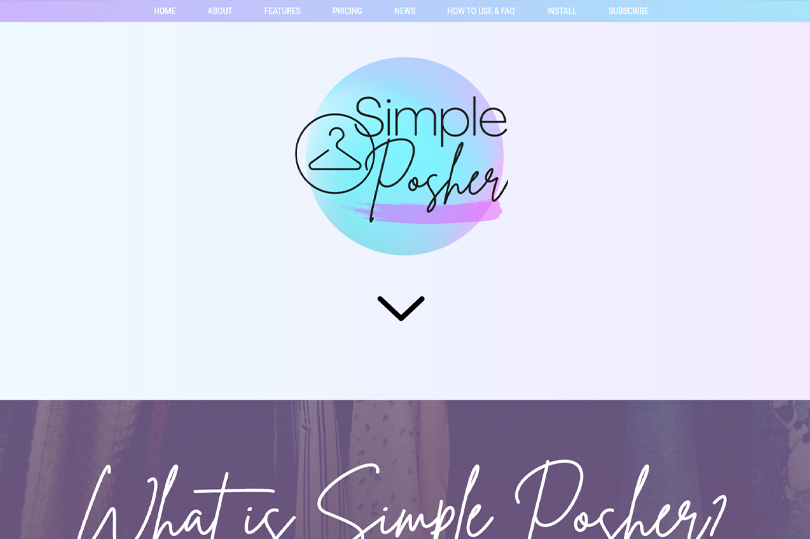 Simple Posher is one of the oldest and most-used Poshmark bots. It has all the features you might want in a Poshmark bot, including auto-sharing your closet, following and unfollowing users, and updating your closet with edit-next-list (edit sharing). 
Simple Posher is only available as a Google Chrome extension, and like many other Google Chrome extension bots, it will notify you when a CAPTCHA needs to be solved. That said, Simple Posher is made to mimic human timing, meaning the frequency of CAPTCHA requests will be lower than other bots.
Simple Posher CAPTCHA Compatibility
As we mentioned, Simple Posher cannot solve CAPTCHA on its own. The human Posher will have to go in and solve the CAPTCHA when Simple Posher runs into one. In the event of a CAPTCHA, Simple Posher makes a loud ding to alert its nearby human.
With 6,000 users, Simple Posher is getting daily feedback about the work that it's doing and how to improve. The news section of their website details the way Simple Posher is staying abreast of current trends.
For support requests, Simple Posher relies on a rather outdated-seeming Google Form to get in contact with customer service. While some services offer live chats, in this area, Simple Posher seems to be a little bit stuck in the dark ages. 
In a world of negative bias, users writing reviews generally have great things to say about Simple Posher. One user claims the service majorly boosted her sales. Others say Simple Posher is very easy to use. 
Many users love Simple Posher, claiming it helps boost their sales and save them time—essentials for a Poshmark bot. On the downside, however, many argue that Simple Posher is very bad at responding to requests for help with the service. This goes back to our view that the Google form on the Simple Posher "contact" tab seems rather suspicious. 
Though the price is lower than others, some claim Simple Posher still isn't cheap enough for the service it offers.
Simple Posher Overview
Functional and extremely popular Poshmark Bot. Great price for what you get compared to other services, though customer service is difficult to contact when something goes wrong.
Pricing: Seven-day free trial; afterward, all-inclusive service is $9.99/month.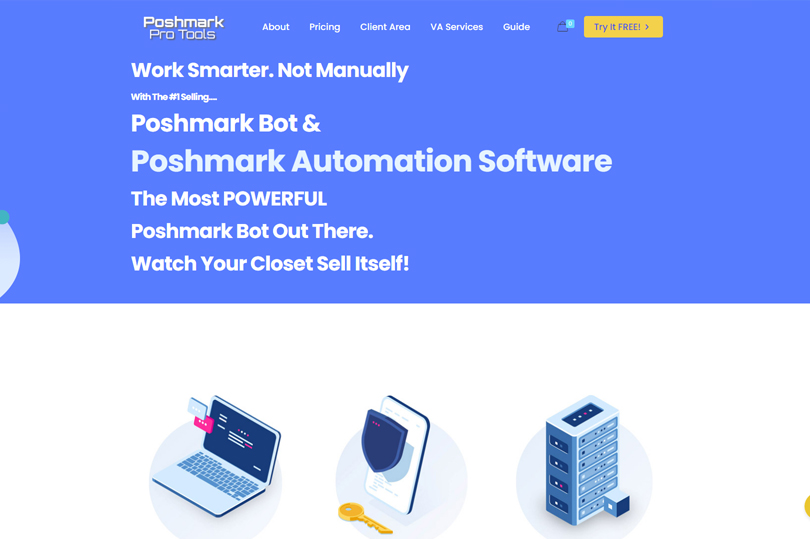 Poshmark Pro Tools is one of the oldest Poshmark bots in the business. They've been around for more than five years—Mesozoic by most Poshmark bots' standards. On their website, they claim to be the most powerful Poshmark bot out there.
Unlike many of the bots on this list, the service is not a Google Chrome extension: users can operate the service from the application, either on their PC or on the app, depending on the service they've purchased. However, this difference also comes with a warning. Poshmark Pro Tools is only available on Windows. Mac users will need to steer clear and keep scrolling. 
For Windows users, Pro Tools offers services like auto self-sharing, auto-liking, auto-commenting, random delay (mimicking human behavior), and many of the other features we have come to expect from Poshmark bots. 
Pro Tools is fully integrated with 2captcha, meaning users operating the service don't have to babysit the software. Pro Tools solves CAPTCHAs as soon as they come at it. That, along with Poshmark Pro Tool's random delay to mimic human behavior, should keep Pro Tools users out of share jail.
It seems that Poshmark Pro Tools is regularly keeping its users up to date with new developments. Pro Tools periodically releases new updates and patches. Pro Tools' Facebook page reveals that the developers are somewhat active, a good sign for future users.
On the Poshmark Pro Tools website, they list "teaching users best practices" as one of the features that have kept the software online for five years with no bans. 
Pro Tools has in-app customer service that they've streamlined with the whole layout of the app. 
Pro Tools is an application that is only available for desktop use with Windows operating systems. There is an app available for non-Windows users, but this app doesn't have any reviews rated in the Apple Store. 
Poshmark Pro Tools Overview
Difficult to master but powerful application for Poshmark. Available only to Windows users, though a cheaper and less functional app is available for people with Apple devices. The price doesn't seem reasonable enough to spend the time mastering this software. 
Pricing: Three-day free trial; afterward, Windows software service is $14.99/month. The app is cheaper, at $8.99/month.
SuperPosher is one of the newest Poshmark bots. It was founded by a husband and wife team. It is a service that allows you to share items 28,000 times a week. This service is one of the most expensive Poshmark bots out on the market, but Poshmark sellers get the whole package. They can follow users from other closets, selling items and solving CAPTCHAs with human timing.
SuperPosher bills itself as "your unfair advantage on the Poshmark market," a catchphrase somewhat out of keeping with Poshmark's community focus, but that nevertheless seems to be appealing to SuperPosher's many clients. 
With daily analytics that reports back to users about how their sales are going, automatic daily shares, and even automatic offers-to-likers, SuperPosher is a service that seems exceptionally robust and well-rounded. It's an excellent service for the extremely busy Poshmark user who wants a deeply-automated Poshmark experience.
Unlike much of the Poshmark bots we've reviewed, SuperPosher doesn't work from a Google Chrome extension, nor is it an application that you download and use. Rather, SuperPosher is a link that operates your Poshmark account from a foreign IP address. This makes the service much more similar to a virtual assistant than to the much less automated bots. Thus, it is far listed in our review. 
SuperPosher comes with full CAPTCHA compatibility. Solving CAPTCHAs is included with a subscription to SuperPosher.
SuperPosher regularly updates its site to align with the ever-changing Poshmark landscape. Based on Poshmark and user feedback, SuperPosher releases dozens of updates with new features and better-streamlined interfaces each year.
One thing going for SuperPosher is it has a highly focused customer service wing. Indeed, the first thing you're likely to see on the SuperPosher website is a chat from the SuperPosher team that appears on the bottom-right corner of the screen. While this chat is, like the auto-chat bubbles on most websites, operated by AI, it reveals a direct and accessible route to speaking with a customer service representative.  
The Apple Store is full of reviews on SuperPosher, many of which are favorable. One user claimed that SuperPosher got them more sales in 48 hours than they had gotten in weeks before signing up for the service. 
When the reviews are negative, customers are usually critical of the price of SuperPosher.
As the above indicates, the biggest downside of SuperPosher is the fact that its service is so expensive. 
Clocking in at more than four times the price of Simple Pilot, SuperPosher would claim that because their service is much more automated than Simple Pilot's, the greater price is warranted. As many have pointed out, too, SuperPosher is much cheaper than a live human virtual assistant that you might find.
The other downside of SuperPosher's service is the somewhat dubious premise. To sign up for SuperPosher, you give the company your login information, and they operate your account from a foreign IP. We're not worrying about the company somehow stealing your information, but when a virtual assistant operates an account from an IP address other than the original users, the Poshmark system can go on alert and suspend or outright ban users.
While we have no reason as of yet to believe that downloading SuperPosher will lead to these kinds of suspensions and bans, the service is relatively new. While SuperPosher advocates a fully-automated Poshmark bot experience, we still tend to see the ideal Poshmark bot as a tool for workflow rather than a fully-automated and hands-free employee. 
SuperPosher Overview
Extremely thorough, automated virtual assistant that checks essentially all the boxes. Though relatively expensive, SuperPosher is CAPTCHA integrated, regularly updated, and customer-focused.
Pricing: Seven-day free trial; afterward, service is $44/month.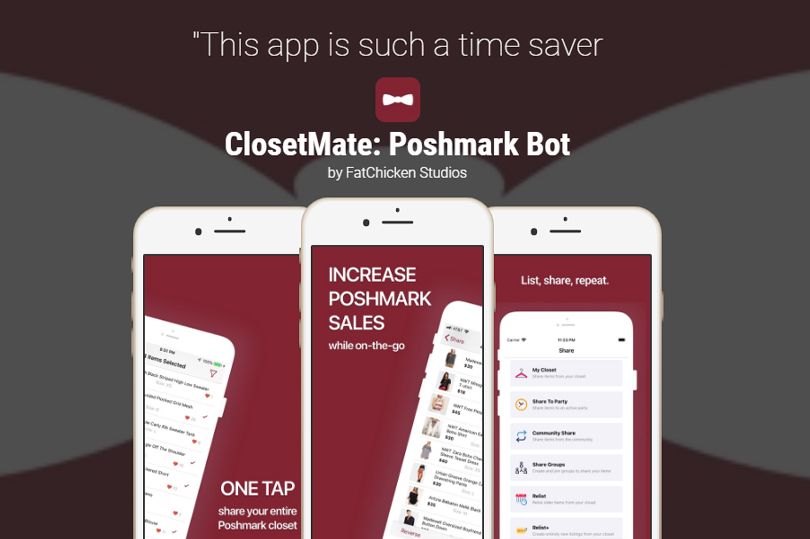 ClosetMate by FatChicken Studios is an iPhone/Android app built to boost sales and save time. You can select the elements of your closet that you want it to share or have the app share everything. ClosetMate allows back-to-front sharing to keep your closet in its original order. 
ClosetMate also allows you to customize the amount of time in between shares to keep the Poshmark share police off your back. 
Cheaper than many, though with fewer features than a lot of the top players, ClosetMate's biggest perk is the fact that it's all mobile, meaning you can keep your busy life rolling with ClosetMate sharing away in your closet.
All told, ClosetMate is great for sellers whose only qualm with Poshmark is having to constantly share your closet to stay at the top of the game. This means that ClosetMate is good for full-time Poshmark sellers who just need a full-time auto-sharer.
ClosetMate doesn't deal with CAPTCHA; in fact, it seems like the app just sort of short-circuits when it comes to a possible CAPTCHA. If you're in the middle of sharing your closet through the app and ClosetMate runs into defense in the Poshmark system, it will stop sharing. 
If this happens, users shouldn't tell ClosetMate to start again; this might arouse suspicion in the Poshmark system. Users will have to go in and share the rest of their closet on their own. Luckily, because of the way ClosetMate is set up on the phone, it stops for CAPTCHA less than other Google Chrome extensions.
ClosetMate offers a really basic service that relies on its human users to understand Poshmark's trends and keep themselves out of share jail. ClosetMate is only dealing with shares; if you want to vary the time in between shares to mimic human behavior, you'll have to set this up on your own in the app. 
Don't count on ClosetMate to add "offers to likers" features or "auto-follow" to its list of features: it's a pretty bare-bones experience, and that's what they're going for. 
ClosetMate doesn't have a website; the only place to get help is in the app or by leaving a review on the App Store or Google Store. That said, ClosetMate seems to be pretty responsive when complaints are lodged.
It's almost suspicious how many positive reviews ClosetMate has online. On App Advice, they have nearly 4.5 stars, and on the App Store, they come in strong at 4.8 stars. Are they cushioning their ratings, or do people just love this app? This compares to averages between 2.5 and 3.5 stars for all the other Poshmark bots we've reviewed today. 
Then again, all the reviews seem very real. Users on the "always free" option claim they can't understand why anyone would download a different service. 
ClosetMate has very few features compared to the rest of the Poshmark bots on this list. Though they offer one thing and offer it well, the fact that going to premium mode only gets you more shares per week sort of simplifies the equation of what makes a seller successful on Poshmark. 
Lack of CAPTCHA capability or even the ability to integrate with 2captcha is also a significant strike against ClosetMate. Closets might just stop in the middle of sharing, and a user wouldn't know. Also, the fact that ClosetMate is restricted to a mobile app alienates those users who prefer to Posh from the comfort of their PC. 
All told, it doesn't seem like you're getting more with the always free option of ClosetMate over a service like Closet Pilot.
Finally, the fact that ClosetMate doesn't automatically mimic human behavior by randomizing the amount of time between shares makes us highly skeptical. That, added to the fact that the developer doesn't have a website or an easy path to customer service, makes us think long-run users of ClosetMate are probably going to get burned.
ClosetMate Overview
With no learning curve at all, ClosetMate is an app that allows experienced Poshers to get sharing right out of the gate with no hassle. However, with no functionality besides auto-sharing and a low IQ when it comes to mimicking human behavior, most Poshers should give this a pass. 
Pricing: "Always free" tier available with limited monthly shares; unlimited monthly shares ("Power User") is available as an in-app subscription for $9.99/month.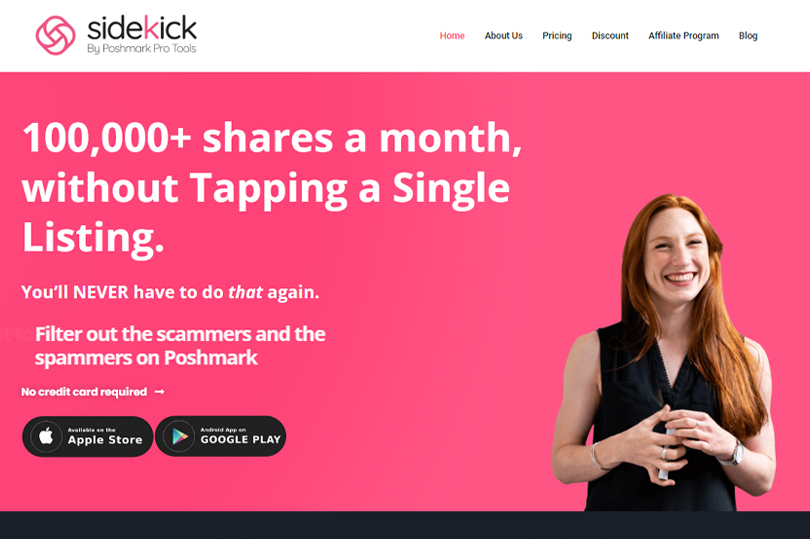 In August 2021, Poshmark Pro Tools debuted our brand new Sidekick service on Facebook. We billed it as the only Poshmark solution you'll ever need and that is true!
Those who remember what Poshmark Pro Tools was about will see that Sidekick is a beast of a different color. Sidekick brings in the seven years of expertise of Poshmark Pro Tools, one of the oldest bot companies, and combines it with fully-fleshed automation software.
Much like SuperPosher, Posh Sidekick is a Poshmark booster designed to do everything for you. "100,000 shares a month, without tapping a single listing," the Sidekick website reads. This, of course, depends on how many listings you have so as not to get caught by the Poshmark algorithm.
Sidekick is very much for the Poshmark user who wants as little interfacing with the application as possible. It gives a strong competitive advantage to those full-time thrifters who need a virtual assistant to run their Poshmark life while they're busy living theirs.
Whereas most bots on this list allow you to follow users, share your entire closet, and offer to potential buyers, Posh Sidekick gives you the option of running a full-time business at the same time as your Poshmark, as Sidekick runs Poshmark completely.
With the monthly service, Sidekick users get access to the automatic CAPTCHA capability built into the application. This means that you'll never have to stop in the middle of your busy day to frivolously click on pictures of boats.
Sidekick came out in August 2021 and has since regularly kept up to date on Poshmark guidelines with regular updates. As Sidekick is much more of a virtual assistant than other Poshmark bots, we expect Sidekick to do all of the work of keeping us out of share jail on its own. As far as being up to date, Sidekick currently checks all the boxes. 
Sidekick is a new service. This means that they have relatively few customer reviews registered online. The reviews that we do see are conflicted about good customer service. Some claimed it was good customer service, and others claimed it wasn't. Because the sample size is so small, we have to give Sidekick the benefit of the doubt.
We do see users praising the CAPTCHA detection, claiming it is just as if they have virtual assistants. Potential customers of Sidekick can test out the service with a free trial.
Meanwhile, the positive reviews are not different from what we see with other Poshmark bots: this app saves people time, earns people money, and helps them go about their day. 
Sidekick Overview
Poshmark Pro Tools is one of the top sellers in the bot market today. Sidekick is a fully comprehensive and automated system designed to fully minimize interactions with the Poshmark interface. 
We love that Sidekick isn't a browser extension, a fact that allows you the freedom of movement afforded by an all-app service. Unlike the similar service SuperPosher, Sidekick operates from an app rather than a foreign IP. This makes it much less likely for Sidekick to raise the suspicions of the Poshmark algorithm.
Though more expensive than other Poshmark bots on this list, Sidekick can help you with your valuable time while at the same time increasing sales. The long and short of it is that we love this streamlined and fully easy-to-use app.
Pricing: Seven-day free trial; afterward, all-inclusive service is $34.99/month.
Poshmark Bots FAQs
Here are some of our most commonly fielded questions regarding Poshmark bots on the web.
What is the best Poshmark bot?
The best Poshmark bot is the bot that meets your needs best. Some Poshmark users like to have a Poshmark bot that is fully automated and keeps them from having to use the app. For these users, a more expensive service like SuperPosher is worth the money.
Some users, however, actually like following users and doing the social aspect of Poshmark. For them, SuperPosher would be far too expensive and would take some of the fun out of using the App. For these users, we'd recommend Simple Posher.
Is there a free Poshmark bot?
There are many free Poshmark bots. While the web is full of them, we have included a few on our list. Keep in mind that a free Poshmark Bot is usually a more limited tier meant to act as the gateway to an "unlimited" service. ClosetPilot and ClosetMate offer forever free tiers. 
As we discussed in detail above, we like ClosetPilot between the two bots compared above. That said, ClosetPilot's "free forever" tier is equivalent to a lite version, allowing just 100 shares per day.
Why are so many Poshmark sellers bots on Poshmark?
At the very beginning of Poshmark's rise through the ranks of thrifting, the application was something of a novel concept. The idea of having a social media platform marketplace that was like an international bazaar of sellers was attractive and very in line with the original zeitgeist of the internet. 
However, as Poshmark grew, what was originally meant to bring users together became a cripplingly time-consuming activity: having to share and follow all the time to increase sales. 
Poshmark bots are a reaction to the social needs required to stay afloat in the highly competitive online marketplace that is Poshmark. As soon as some started to use bots, others naturally had to follow suit. 
Conclusion
In this article, we've covered tons of ground about Poshmark Bots. We've discussed what a Poshmark bot is, what to look for in a Poshmark bot, and why you might use a Poshmark bot today, as well as going through our extensive guide on the best Poshmark bots. 
All things considered, you should try Posh Sidekick. Our service may be slightly more expensive than some, but what you got out of the deal is a fantastic combination of automation and super-powered Poshing. It solves CAPTCHAs, auto offers-to-likers, shares your closet, and more, all for $10/month cheaper than the similar service SuperPosher. 
Consider, also, that while SuperPosher offers 28,000 shares per month, Sidekick offers 100,000.
Our second favorite bot was Simple Pilot. Though it is a Chrome extension, it's a good application for someone who just has a few items on Poshmark that they want to sell and are having trouble in a very competitive market. 
There's no reason not to get a Poshmark bot in 2023. At the very least, trying a free trial like Sidekick will show you what you've been missing. The hardest part will be figuring out what to do with all that extra time!
Best of luck, and happy poshing!