If you think that Poshmark is no longer a marketplace where you can get sales easily then you are definitely wrong!
Most of the sellers who are struggling to get sales on the online social commerce platform think that they've tried every known tactic to promote their product listings.
Well, not yet!
The conventional methods for listing promotion on Poshmark are no longer effective and you know the reason why?
Because every seller knows about them!
Obviously, every Poshmark seller has read blogs and watched videos on "how to promote listings on Poshmark."
You will find thousands of those blogs and videos online and honestly, you too had read and watched them…
So, what else is there that you haven't tried yet?
"Promoted Listings" a listing promotion service by Posh Sidekick that will get your Poshmark listings reach to millions of Poshers!
Posh Sidekick is a Poshmark automation app that automates various tasks for you as a Poshmark seller such as sharing, following, relisting, and others.
Recently, Posh Sidekick launched a new feature or you can call a service "Promoted Listings" within their app.
This service is basically an organic advertising service that is particularly designed to take your promotional reach to a whole new level.
Gone are the days of lackluster promotional campaigns that barely get noticed. With Posh Sidekick Promoted Listing service, you can expect nothing but reaching out to millions of Poshers, who are the most active buyers on the platform.
Our team of experts has spent countless hours perfecting the art of Poshmark promotions that get results. And with the new "Promote Listings" feature, we can ensure that your product listings will go viral to reach 10x more Poshers.
What's So Unique about Posh Sidekick Promoted Listing Service ?
The Promoted Listing service by Posh Sidekick is not any ordinary Poshmark promotion service. The service enables Poshmark sellers to promote their items on Poshmark by sharing them with a large number of potential buyers.
Sounds clichéd right?
Well, the next thing we are going to tell you will debunk the cliché!
The Promoted Listing service by Posh Sidekick is basically a premium listing advertising service that gives you the power to organically advertise your product listings with up to 1000 closets per day.
If you heard about "Promoted Listings" on eBay, it works very much like that.
In simple words, the Posh Sidekick Promoted Listing service is Poshmark's version of eBay's "Promoted Listing."
However, contrary to eBay "Promoted Listings" where you need to choose an ad rate which can be 2% to 100% of the item's price, Posh Sidekick Promoted Listing service has a fixed monthly cost so it's more affordable and yield better results for sellers.
How Does Posh Sidekick Promoted Listing Service Work?
Posh Sidekick has built an advertising network with thousands of closets, and most of these closets have thousands of genuine followers.
The Posh Sidekick Promoted Listing service works by promoting your items via community shares through thousands of closets in the advertising network. So the potential for exposure is high and the reach and impressions can get to millions, literally!
You have the option to choose up to 7 items that will be promoted every day by the number of closets in your subscription package.
To prevent spamming, Posh Sidekick controls how your items are community shared. Moreover, we choose different closets every day from our database of thousands to ensure safety and compliance.
It's also important to know that the service will run for 30 days and does not guarantee sales. However, your listings will get plenty more exposure and create a buzz!
How to Use Posh Sidekick Promoted Listing Service ?
1- First, you need to download and install the Posh Sidekick app on your mobile device (Available on both Google Play and Apple App Store).
2- Then, go to sign up window with the Posh Sidekick app and register.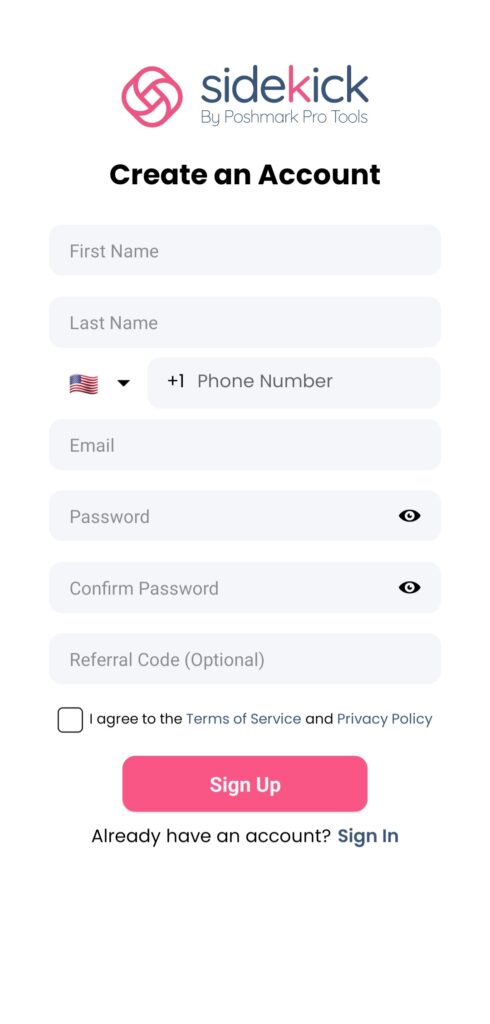 3- Once, you are a registered user, you need to sign in to your Posh Sidekick account and connect your Poshmark account.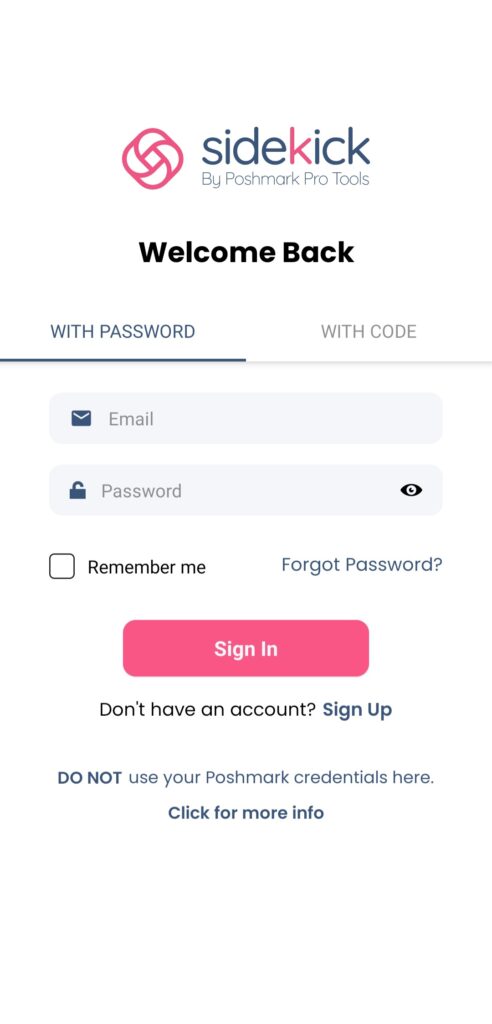 4- For the service purchase, you need to tap the "Tools" option on the app's homepage and then tap "Promote Listings."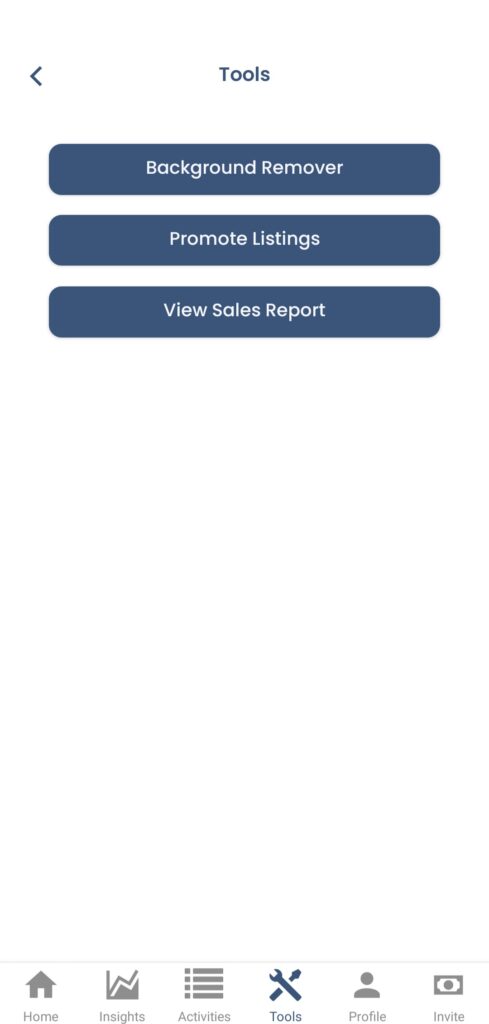 5- Tap the "Buy Now" button to buy a monthly subscription and complete payment.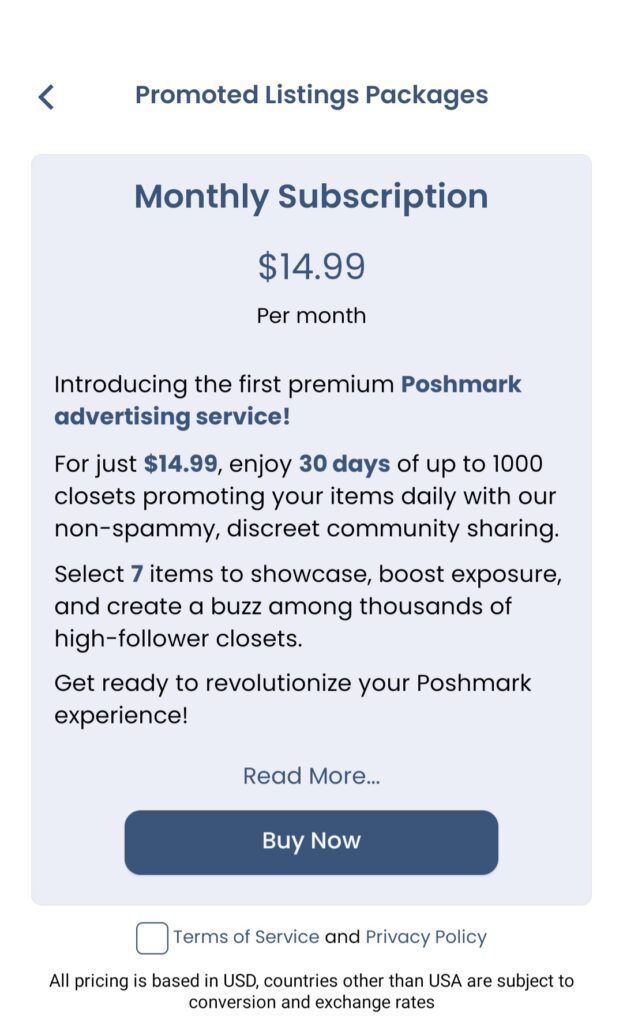 6- Next up, you need to go to the homepage again and tap the "Tools" option and then tap "Promote Listings."
7- Then, tap "Open Promoted Listings"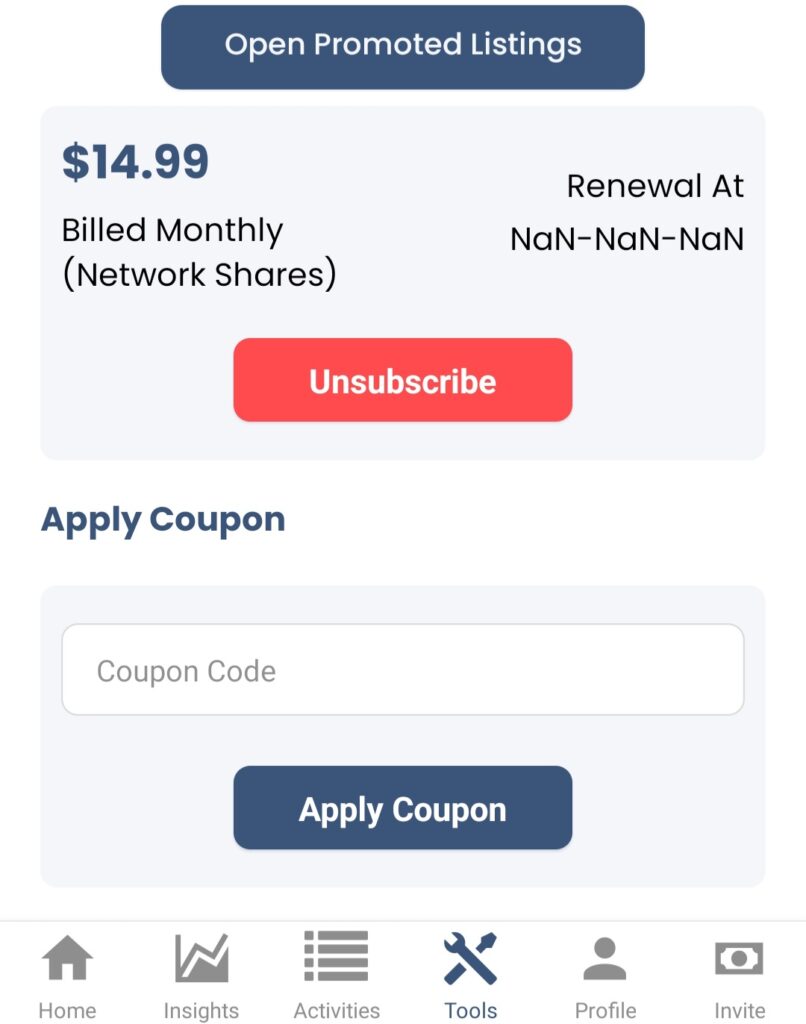 8- There, you will find all your listings, tap "Configured Promoted Listings Items."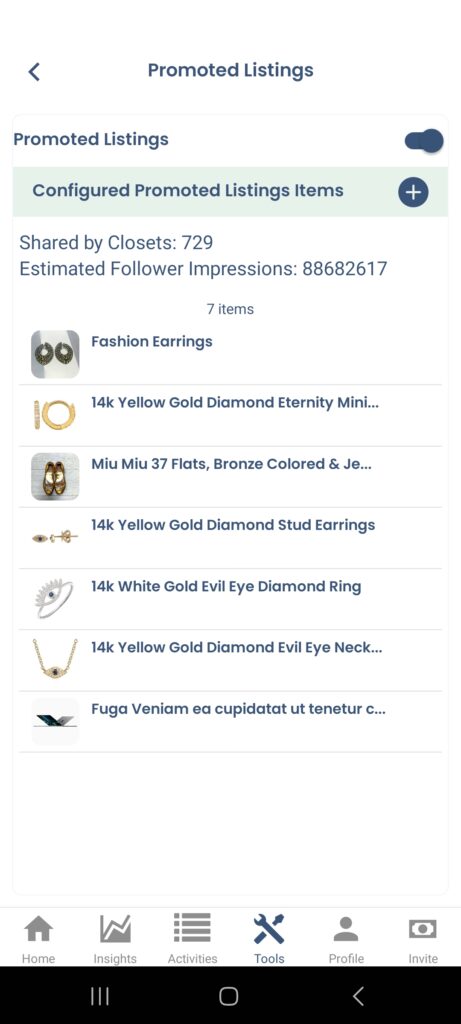 9- Select the 7 listings that you want to promote and tap "Promote These Items."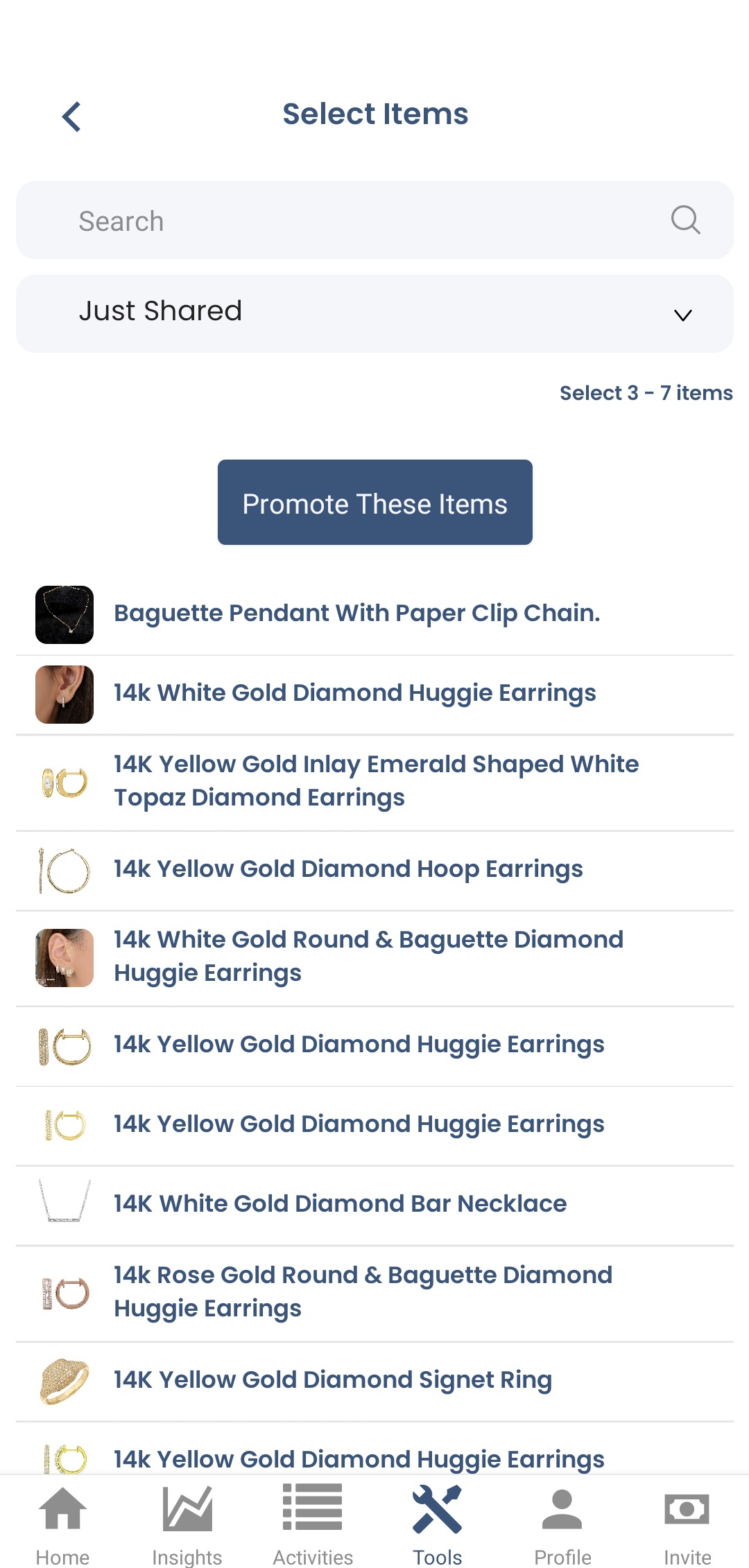 10- If an item gets "Out of Stock" and you need to remove it from the list of "Promoted Listings" then you have to swipe the listing to the left and a "Remove" button will appear. Tap the button and the listing will get removed.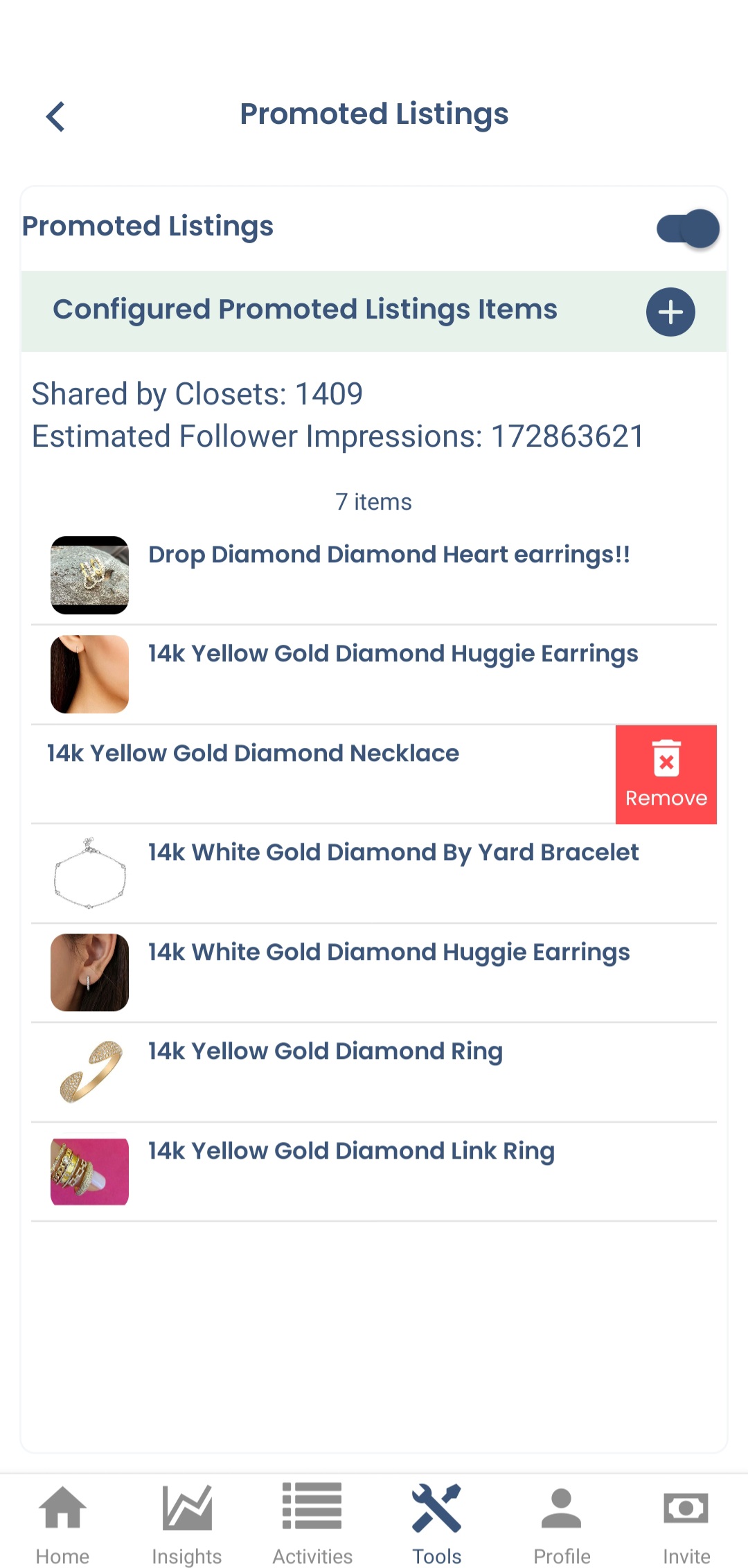 Is It Safe to Use Posh Sidekick Promoted Listing Service?
As far as the safety of account and compliance with Poshmark's selling guide is concerned, the Posh Sidekick Promoted Listing service is totally safe to use. The promotion or advertising of the product listings is done not just tastefully and discreetly but also safely. Hence, is not spammy by any means.
How Many Poshmark Listings Can I Promote Each Day?
You can select up to 7 of your product listings on Poshmark each day for advertising promotion via Posh Sidekick Promoted Listing service.
How Much Does Posh Sidekick Promoted Listing Service Cost?
As of now, the Promoted Listing service by Posh Sidekick will cost you around 14.99 per month for 7 product listings per day and up to 1000 closets promotion.