Hashtags have become an essential part of the Poshmark ecosystem, enabling users to connect, discover, and sell their unique styles to a vast audience. But how do they work? What makes some Poshmark hashtags trend while others fade into oblivion?
In this post, we'll unveil the real science behind Poshmark hashtags and explore how they really make a difference. Understanding the science behind hashtags will empower you to create a winning promotion strategy and harness the true potential of hashtags.
Do Hashtags Works on Poshmark?
Hashtags may not work on Poshmark as the search bar and style tags are good enough to make your listings visible on the platform. However, that doesn't mean, they are absolutely irrelevant for Poshmark sellers. Even though hashtags may not directly impact visibility within the platform, they can still be useful for promoting your items outside of Poshmark.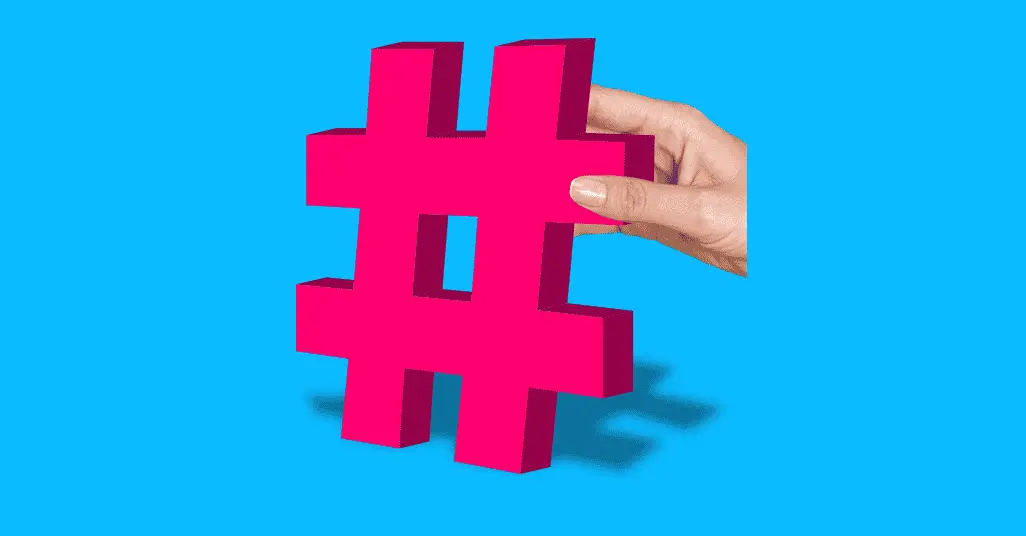 To attract potential buyers, Poshmark sellers should not limit their promotion efforts solely to self-shares and community shares within the Poshmark platform. Instead, they can utilize hashtags on social media platforms like Instagram, Pinterest, and Facebook to promote their items to a wider audience. By using relevant and popular hashtags, sellers can increase their chances of reaching more buyers who might not be actively searching on Poshmark.
Create Social Media Handles for Your Poshmark Business
It's important to maintain a separate social identity to effectively promote your Poshmark closet on social media. Though some may not mind mixing their personal and professional lives.
Creating separate social media accounts for your Poshmark business will prevent your buyers from stumbling upon irrelevant content and making judgments based on unrelated personal posts.
You even don't need to have accounts on every social media platform. Instead, focus on one or two platforms that you feel comfortable using, have a broad audience, and commit to regular posting.
Platforms like Instagram and Pinterest are excellent to start with, and if you enjoy making videos. However, you can also consider creating a YouTube channel or TikTok account for Poshmark-related content.
Whatever platform you choose, ensure your account is public to make your posts and hashtags discoverable.
Moreover, add your Poshmark branding elements to your business's social media handles. Use the same handle and profile photo that you use for your Poshmark account. Similarly, include a link to your Poshmark closet in the bio descriptions of your social media accounts.
Use All the Official Poshmark Hashtags
If you really want to enhance your presence and engagement on Instagram, make sure to take advantage of all the official Poshmark hashtags.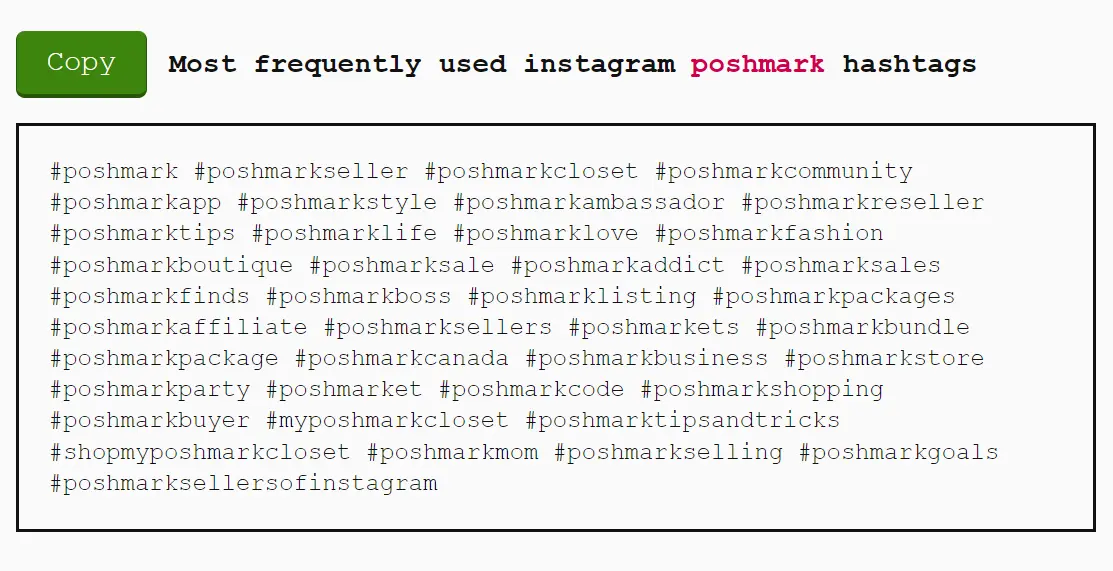 Poshmark maintains an active Instagram account that fosters interaction and community-building among Poshers, and using official Poshmark hashtags can help you connect with like-minded individuals, gain visibility, and showcase your Poshmark journey.
Here are two of the key official Poshmark hashtags you should incorporate into your Instagram posts:
#MeetthePosher:
This hashtag provides a fantastic opportunity for you to introduce yourself to the Poshmark community. Share a bit about who you are, what you love to sell, and what inspires you in your fashion and selling journey. Using this hashtag can lead to meaningful connections with other Poshers, helping you expand your network and potentially increase your sales.
#ThePoshLife:
As a Posher, you're living a unique lifestyle, running your own business, and experiencing the joys and challenges of being a seller. Use this hashtag to offer glimpses into your daily life as a Posher, whether it's showcasing your workspace, packing orders, or sharing a motivational quote that inspires your fellow sellers. This can foster a sense of camaraderie and inspire others to pursue their passion for fashion and entrepreneurship.
And don't stop there!
Poshmark has an entire list of popular hashtags, and it's worth exploring and utilizing them all to maximize your reach and engagement. Some of the hashtags that you can use are:
#Poshmark: The basic and widely used hashtag to connect with the broader Poshmark community.
#PoshmarkSeller: Showcase your seller identity and connect with other sellers.
#PoshmarkCommunity: Engage with the supportive Poshmark community.
#PoshmarkFashion: Display your fashionable finds and trendy listings.
#PoshStyle: Share your unique style and fashion tips.
By incorporating these official hashtags into your Instagram posts, you increase the chances of being discovered by potential buyers, fellow Poshers, and even Poshmark itself.
Remember, the more relevant and authentic your content, the better the chances of building meaningful connections and boosting your Poshmark business.
Final Words:
Poshmark hashtags have the real power to enhance your visibility and engagement on the platform. By strategically using relevant and trending hashtags, sellers can amplify their reach, attract target audiences, and boost sales.
However, proper understanding and implementation of hashtags based on market research and customer behavior is important to be successful on Poshmark. So unleash the true potential of hashtags to take your Poshmark game to the next level!