The selling fee that a marketplace charges from its sellers on each sale has paramount importance as it can seriously impact their profits. Therefore, it's important to know about all the fees associated with selling on that particular platform on which you are selling. In today's blog, we will be discussing everything about Mercari seller fees that you must know before start selling on Mercari. From transaction fees and payment processing fees to order cancellation fees and shipping charges, we will discuss each and every fee associated with Mercari selling in detail. So let's start!
Mercari Seller Fees Breakdown 2023
Get Started or Sign Up Fees:
Mercari has a free and straightforward process for sellers to join the platform. Unlike Amazon and other online marketplaces, Mercari does not charge any fees to get started with selling.
As a seller, you can sign up for free, create a seller profile, and set up your online shop. You just need to get your profile photo and email address verified and you can start selling.
This "Start for Free" approach encourages new sellers to easily enter the Mercari marketplace and start their selling journey without any upfront costs, making it an attractive platform for individuals looking to sell items online.
Listing Fees:
The listing fee is the fee that is charged by marketplaces from sellers for listing their products for sale. In the case of Etsy, a flat rate fee of 0.20 USD is charged per product listing from the sellers.
However, the scenario is different on Mercari as they do not charge any listing fees at all. Sellers can create an unlimited number of product listings without having to pay a penny.
This provides a cost-effective benefit for Mercari sellers and encourages them to list as many products as they desire without financial constraints.
Transaction Fees:
While you can list your items for free on Mercari, you have to pay a 10% transaction fee for every sale you make on the marketplace. This 10% selling commission charged by Mercari for every transaction can significantly impact your profit calculations and item pricing.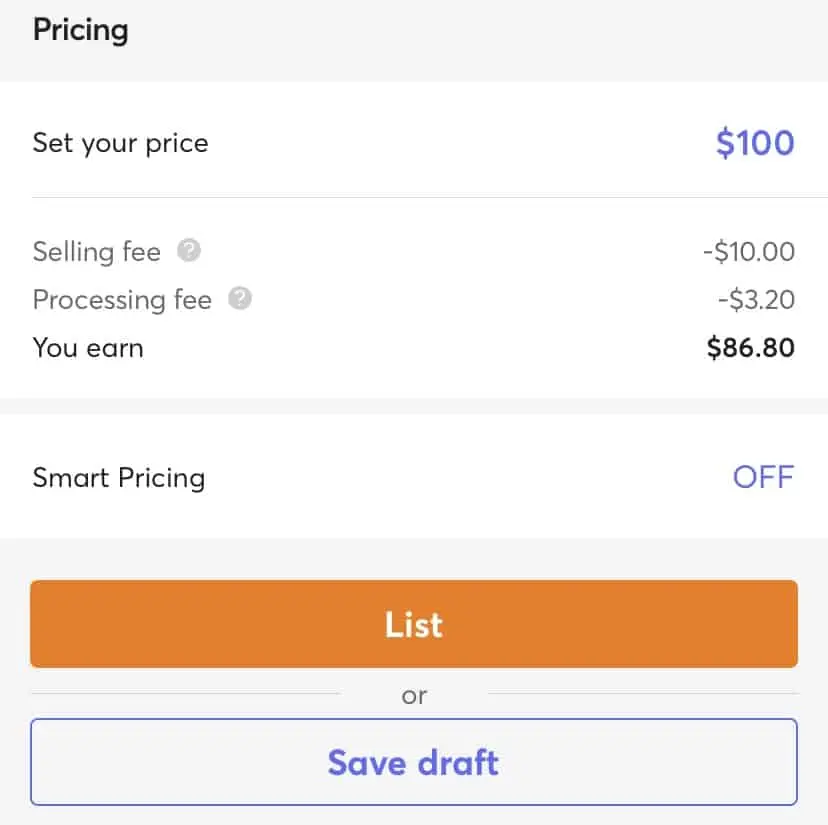 Therefore, to avoid losses, you should be cautious and conduct thorough research before setting prices for your items. One good way to do that is to compare prices of similar items on other online selling platforms.
Remember, relying on vague estimations may lead to underpricing and reduced profits. So always be mindful of the transaction fees when pricing your items. Otherwise, you will end up booking a loss rather than a profit on your sales.
Payment Processing Fees:
Apart from the transaction fee, there is another fee called the "payment processing fee" that sellers on Mercari are charged when they make a successful sale. The payment processing fee amounts to 2.9% of the total transaction value, plus an additional $0.30 per transaction.
For instance, if a seller makes a sale for $20, the payment processing fee would be $0.58 + $0.30, resulting in a total fee of $0.88 deducted from the seller's earnings.
Mercari charges this fee to cover the costs associated with payment processing and ensuring smooth financial transactions on the platform.
Order Cancellation Fees:
As a seller, you should know that Mercari also charges an order cancellation fee if you cancel your buyer's order for any reason. When a seller cancels an order, a 5% cancellation fee is applied to the price of the ordered item.
The purpose of an order cancellation fee is to discourage Mercari sellers from canceling orders, as it can disrupt the smooth functioning of the platform.
Moreover, it is to encourage sellers to take proactive measures to prevent order cancellations, ensuring a more positive shopping experience for buyers.
Shipping Fees:
The shipping fee on Mercari is a very subjective matter, as it totally depends on your preferred shipping carrier. Mercari supports shipping from various shipping service providers such as FedEx, United States Postal Service, and UPS. So it's up to you which shipping carrier you choose based on service quality and shipping charges. Here below is the breakdown of the standard shipping rates of each shipping carrier: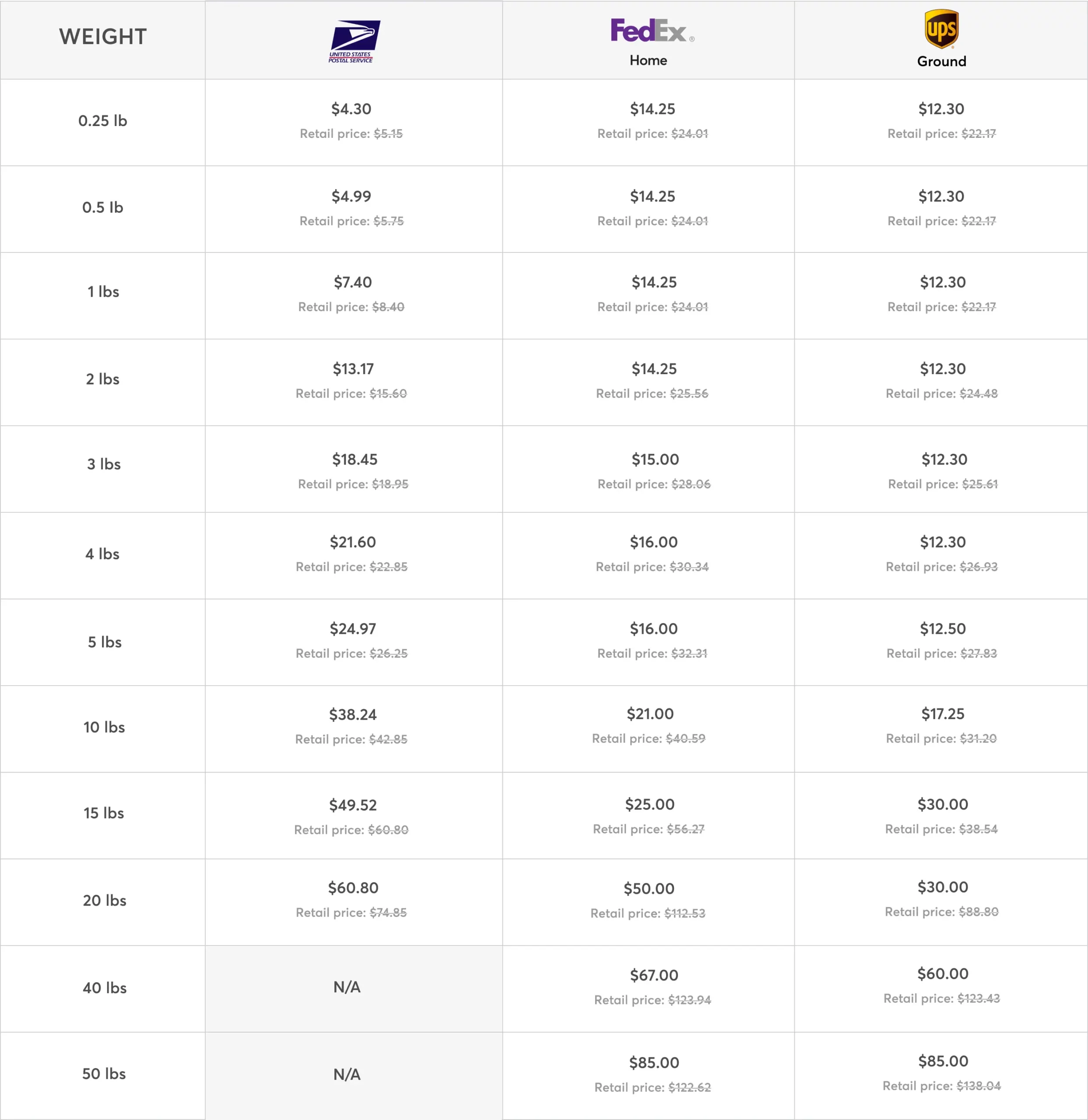 NOTE: All the rates that are in bold represent standard shipping rates (Effective from 2/1/23) while others represent economy shipping rates.
It's also important to remember that you can opt to offer free shipping to your buyer or create a Mercari prepaid label that will be paid by the buyer.
Withdrawal Fees:
There are two ways you can withdraw your earnings from sales on Mercari. One way is through money transfers. Mercari supports instant pay where funds from your Mercari account are transferred to your debit card and you will be charged a flat rate of $2.
The other way is direct bank deposit. For that, you just need a checking account and all the funds will be deposited into it. However, you should know that it may take a couple of days before the money gets deposited into your account. Moreover, no money gets deducted on direct bank deposits of more than $10.
For bank account deposits of less than $10, Mercari charges you $2. Moreover, if your bank declines the deposit for any reason such as incomplete requirements then Mercari will charge an extra fee of $2.
Final Words:
Mercari's seller fees offer a balanced trade-off for sellers to sell their items online. While it's easy and free to start selling on the online marketplace, the transaction fee along with the payment processing fee is something that they will have to consider before listing an item.
All in all, we can say that Mercari is a great online marketplace for those looking to declutter their homes or sell pre-loved items. With the right pricing strategy, they can indeed make good profits on the popular e-commerce platform.
We hope that you find this Mercari seller fees guide helpful. For more insightful blogs, keep following Posh Sidekick!