With the passing of Prince Philip on April 9, 2021, the eyes of Britain (not to mention the eyes of the world) are increasingly on Queen Elizabeth II. How will the Queen handle the loss of her beloved partner of 73 years? Will the monarchy be affected? Will the Queen persist in the fairly active role she currently takes—even at the ripe old age of 94? These are all questions that have people thinking about "what's next" for Queen Elizabeth as the world empathizes with her loss.
The public has always had this enduring fascination with the British royal family. Especially as of late with Harry and Meghan making headlines over and over again, it seems as though every time we turn around this fascination only grows. And now with Prince Philip's death, Queen Elizabeth is in the spotlight perhaps more so than she has been within the past few years.
And, as all eyes are always on the Queen…wherever she goes, it would stand to follow that constant commentary about how she looks is inevitable. Queen Elizabeth for all intents and purposes lives on a perpetual red carpet. As soon as she emerges from Buckingham Palace or Balmoral Castle or one of her many royal estates, she has to be "on"—for the paparazzi, for the spectators, for the people of England. Her fashion choices are therefore not merely choices, but statements, nearly every single outfit.
Not everybody makes national news when deciding what to wear on any given day, but Queen Elizabeth certainly does. And especially as the death of Prince Philip and the mourning period the Queen will be experiencing stand to thrust her even more into the spotlight, critique and observations concerning her fashion choices is likely to follow.
A Fashion Icon in Sensible Shoes
When you hear the term "fashion icon," odds are your mind wanders to the likes of the Jenner/Kardashian clan, or the Hadids, or Billie Eilish. In thinking back on generations past, names like Cher, Cindy Crawford and Madonna come to mind. Or even further back, you have Marilyn Monroe and Jackie O.
The term "fashion icon" as applied to the British Royals is probably more likely to invoke Meghan, Kate and the late Princess Di. Queen Elizabeth's fashion choices are generally not going to be numbered among those red carpet must-haves.
And yet, in her own right, the Queen is something of a fashion maven. In many ways, her job is to set the royal tone. How she carries herself, how she addresses the public and yes, how she dresses all contribute to the perspective that the British people have of the monarchy as a whole. Many would say that Queen Elizabeth II has "redefined what it means to be a monarch." The Queen is noted for her willingness to walk that line between traditional and modern. Her active role in government along with her move to modernize the monarchy are going to be major parts of her legacy. She will be remembered for who she is and what she did for England from within her royal sphere. And her fashion choices, to some extent, will also go down as a large part of how she is remembered.
Today, most would categorize the Queen's style as sensible and prim. She is after all well into her 90s. Edgy and sexy…probably not the best fit for a royal nonagenarian. But has the Queen's style always been this way? Or, has England's reigning monarch gone with the flow and consequently adapted to the decades and changing fashion trends through the years? In this guide, we take a look at the Queen's life in conjunction with the evolution of her look throughout her 68 year reign.
A Queen in the Making and A Marriage for the Ages…
One of the defining moments in Elizabeth's life was falling in love with and eventually marrying Prince Philip of Greece—her third cousin. They would ultimately wed, have four children, numerous grandchildren and great grandchildren, and settle in as the royal couple who set the standard on longevity where marriage was concerned.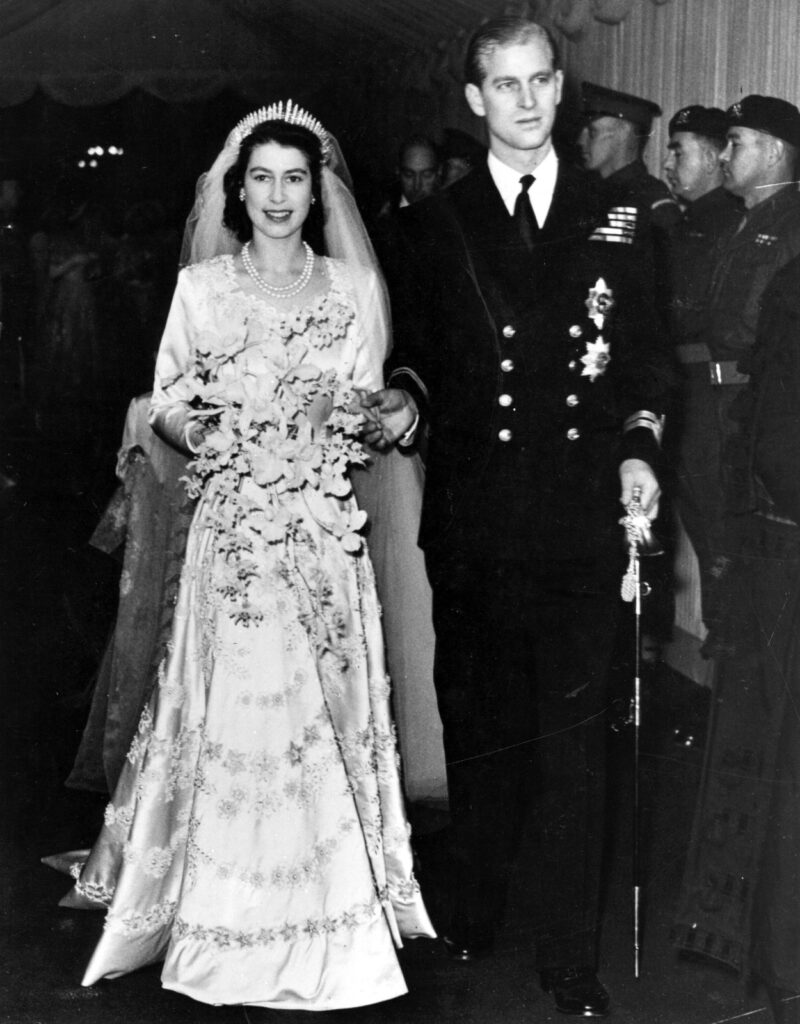 Perhaps one of the most consequential issues surrounding the death of Prince Philip is the fact that his partnership with his wife, the Queen of England was so remarkable, so long lasting and so private. Of course, as with any marriage or any relationship that lasts over seven decades, there are going to be those inevitable ups and downs. But at the heart of this union was what some might call normalcy. That is to say, out of the public eye, away from the scrutiny encountered because they were "royals," Queen Elizabeth and Prince Philip could simply be themselves with one another. He allowed her to "let her hair down," laugh and just "be." Not to mention, Philip was Elizabeth's rock behind the scenes. As one of Elizabeth's biographer's, Sarah Gristwood, notes: "A huge invisible part of Prince Philip's work and legacy is the support he gave the queen, which has been invaluable to her."
With Prince Philip now gone, many in England fear the widowhood effect. The widowhood effect is a phenomenon in which a spouse left behind—particularly when spouses have been together for a very long period of time—dies of a "broken heart." During their bereavement, an illness or medical condition can develop or worsen causing the widowed partner to succumb to the trauma of losing their loved one. After an incredible 73 years of marriage, Philip and Elizabeth had cemented a bond that while not always perfect, worked exceedingly well for them. And now Queen Elizabeth is without that critical center in her life.
It is no wonder that their courtship, marriage and love story in general have come to the forefront since the Prince's death. Many people in this day and age, when divorce rates are over forty percent globally, are mystified at just how Philip and Elizabeth remained together for so long.
Let's take a brief look at their early romance…
When first taken with the dashing young Prince, Elizabeth was only thirteen. Philip was eighteen. During WWII, Prince Philip served in the British Royal Navy and the pair would exchange letters throughout his tour of duty. In fact, Philip was said to have carried the one-day queen's photo with him throughout the war.
Finally, once the war was over and the pair spent some more time together, attending public events and courting in a more traditional sense, Philip proposed. The year was 1946. Elizabeth's father, King George VI, consented but said that Elizabeth had to wait until she turned 21 to marry. Elizabeth was bound and determined to wed this man, the one she thought of as the love of her life.
The pair finally wed on November 20, 1947. Elizabeth would not very long after assume the throne of England sooner than anticipated (1952 following the untimely death of George IV), forcing Philip—now Duke of Edinburgh—to go on leave from the navy and take his place next to his wife, the newly crowned Queen of England.
A Queen Who Rules with Style
Ascending to the throne at such a young age, Elizabeth had her work cut out for her. But just as she was in her choice of husband and determination to marry him, so she would be in her duties as the Queen. From day one, Elizabeth knew she had work to do and set about doing it. And in undertaking her role as England's monarch, she did so with style. Her outfit choices throughout the years have been part strategic, part sensible and part spirited. Her dresses and gowns and of course hats are as much an embodiment of who she is as any other aspect of the Queen's life. As Diane von Furstenberg once famously said: "Style is something each of us already has, all we need to do is find it." The Queen's unique sense of style has always been there, and through the years she has not only found it but proudly owned it.
Queen Elizabeth's Closet: The Early Years
So, in the beginning of her reign, was the young Queen more fashion-forward or was she more fashion frump than anything else? The name Norman Hartnell probably doesn't ring a bell for too many people. And yet, in the early days of Elizabeth's marriage and consequent rise to the throne, he was her dresser du jour. In fact, Hartnell was given the official title of Royal Dressmaker to Queen Elizabeth. He created her wedding gown as well as her coronation ensemble. Hartnell was famously quoted as saying that the "queen and her mother do not want to be fashion setters." Despite this however, whether she liked it or not, the young queen was destined to fascinate crowds for many years to come with her outfit choices.
The no-nonsense Queen was ultra focused on her responsibilities as a royal. Her clothing to that end, while certainly stylish, was not necessarily always in line with the latest trends of the day. That is not to say that the times however didn't affect her wardrobe choices; her wedding gown was actually made from material she purchased using war ration coupons—fashionable and conscientious! And still every bit stunning. Adorned in pearls (a signature string of pearls would remain part of her quintessential "look" throughout her life), the dress embodied elegance in every sense of the word.
Her coronation outfit, also done by Hartnell in 1953, was quite elegant but without the shapelier elements of dresses of that period. And not one to waste a gorgeous gown, Elizabeth actually wore her coronation dress on more than just the occasion for which it was designed. The words practical and fashion have always seemingly gone together where Queen Elizabeth is concerned.
In the early years of her reign (50s and 60s) as Britain's main monarch and wife to Prince Philip, Elizabeth placed a great deal of emphasis on color—this of course would increasingly become a part of her signature style. Her gowns for high profile outings were often vibrantly jewel toned, deep blues and emerald greens, and were crafted of exquisite looking fabrics. The 1950s were largely about experimenting with the color and the line of dresses. And while form fitting has never really been the Queen's thing, she seemed to have embraced a wide and bold color palette during this period. The brighter the better in some circumstances.
The 50s were also all about accessorizing. From handbags to jewelry to gloves, women were rarely seen without the right accessories accentuating the right dress, and Queen Elizabeth to this end followed suit. Some of the Queen's signature fashion moves included long chic gloves. Jewelry such as classic and elegant earrings and necklaces in particular were always worn. And Queen Elizabeth was rarely without a clutch or handbag. Today, that ever present Launer brand handbag (it is rumored she owns over two hundred) is still a trademark of Elizabeth's classic style.
Fur wraps, coats and shawls were also prevalent in Elizabeth's early wardrobe. Mink being among her favorite. The perfect accents to her deeply colored shimmering gowns, her wraps and furs served dual purposes—they kept Her Majesty warm and of course added that bit of fifty's flair.
The Disco Decade and an Unflappable Queen
The 70s into the early 80s were all about experimenting—with everything! Lifestyles became freer and less inhibited. Music tested bounds even further than it had in the sixties. Even food got experimental. And as for clothing, well, the 70s introduced some very interesting trends. Bell bottoms, peasant blouses, polyester and ponchos have become iconic emblems of seventies fashion. So what of Her Majesty, Queen Elizabeth II?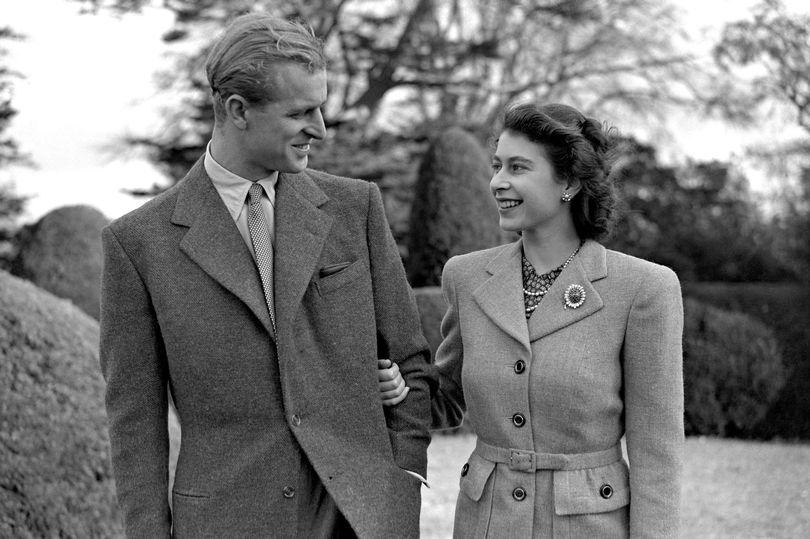 While we never really saw her cut up the dance floor doing the hustle or bopping to the Bee Gees, the Queen did evolve somewhat in terms of her fashion in the 70s and 80s. As she began to come into her own, gradually over the course of the preceding decades and most definitely into the 1970s, Elizabeth was less hesitant about standing out in a crowd. Standing out and being seen was part of her job after all. The seventies saw the introduction of a new dresser for the Queen: Ian Thomas. Thomas had actually been trained by Hartnell. And with his younger perspective and more youthful eye, the designer injected the Queen's wardrobe with a bit more boldness.
For one of the first times, Elizabeth would be seen in public wearing a pant suit. Previously, most of the Queen's engagement saw her in some form of skirt. With the ushering in of a new decade, came the need for some new style.
The 70s was also the decade during which the Queen's hat collection would begin to grow and also vary extensively. She wore everything from stylish turbans to the more recognizable hat styles that the Queen today is hardly ever seen without. Though she did walk a braver line as far as fashion in the disco decade, she always managed to maintain that reserved and polished look. Some criticized her for not being trendy enough and for dressing too conservatively. The one thing about Queen Elizabeth though is that she most definitely knows her own mind to include her style preferences, disco decade or otherwise.
An Eighties Kind of Queen
When looking at pictures of the longest reigning English monarch, you still can't help but notice the march of time by virtue of the changing styles. And even though Elizabeth didn't exactly go out and purchase the latest ensembles as seen on the runways of Paris Fashion Week, she did still adopt some trends that were undoubtedly influenced by the decade. The eighties were no exception…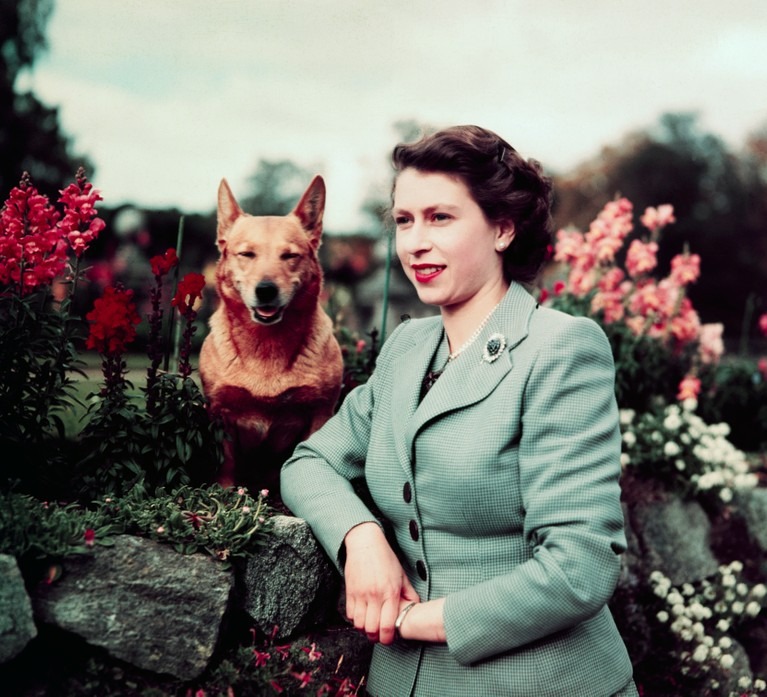 Big hair, big diamonds and big sleeves! Elizabeth at one point or another sported all three—sometimes all three at once. In several pictures from the decade, her hair has a distinct "Dynasty" vibe. High, sprayed and starched many times over, some of her hair styles during this particular decade are definitely "remember when" moments.
And of course, there were those broad sleeves. Whether flowing sleeves or puffy ones, Queen Elizabeth wore them with plenty of eighty's pizazz. When you're the Queen of England you do have free rein to stand out by virtue of your excessive sleeve stylings.
The other key fashion trend that was definitely noticeable as far as the queen's 80s wardrobe went was the emphasis yet again on color. Vibrant blues, one of her favorite and consequently signature colors, started eating up more and more of her closet space it would seem. From royal blues to more sedate navies to the soothing and still dazzling coral blues, blue has been and still remains one of the queen's go-to colors.
Speaking of colors, there are certain shades and tones that the royal dressers are not allowed to put the Queen in for various reasons. Grey for instance, is thought to make her look simultaneously both too bland and too severe. Black is for mourning only. And while colors can be bold, they cannot be over the top so as to overshadow her blue eyes and fair complexion.
Perhaps one of the royal family's most memorable events of the 1980s was the wedding of Prince Charles to Lady Diana Spencer—the union that would of course produce William and Harry. While certainly the crowd gathered to watch the nuptials and behold the blushing bride, many of those eyes were also on the Queen, and her wardrobe became fodder for all of England to discuss.
Keeping with her usual style defaults, Elizabeth wore her pearls and long white gloves. The dress itself—complete with matching hat—was a Tiffany blue color. Not one to be ostentatious, or of course to outshine the bride (Diana's sleeves that day in many ways took center stage), Elizabeth's ensemble for her son's wedding was very much in keeping with her usual approach to fashion: sensible yet appropriately stylish with a hint of chic.
Flirty and Fun in the Nineties
It goes without saying that the adjectives "flirty" and "fun" aren't necessarily what you think of when thinking about Queen Elizabeth, but with the ushering in of the decade that brought Bill Clinton to prominence and gave us Friends, the British sovereign loosened up as far as her fashion went…just a bit.
In the early part of the decade, Elizabeth was in her sixties. Already a grandmother six times over she was definitely well settled into her "golden" years. In fact, she was heading for her Golden Jubilee which would take place in 2002. Her clothing choices—or rather those of her royal dresser (more on that later)—tended to reflect a Queen who was content with where she was in her life and was more comfortable with her place in the country and in society. Some might also say that the nineties saw Elizabeth dress more "grandmotherly."
While she frequently donned florals and patterns throughout her life, we see even more of this trend in her 90s wardrobe stylings. And the Queen didn't hold back; her floral dresses were quite bright and bold, in some cases, very bright. With her hair now safely grey, the more colorful prints and patterns helped brightened her entire look, again, adding to that overall grandmotherly vibe.
This was the decade that also saw the increased presence of the paparazzi surrounding Buckingham Palace. Diana brought the royal family into the public eye, more so perhaps than it had ever been before. Wherever she went, photographers followed. And as Queen Elizabeth was frequently seen with Princess Di, inevitably she too became a more prominent fixture in photographs of this period. More attention was therefore paid to her overall appearance, which is when certain trademark fashion items such as the Queen's handbags, pearls and hats became even more noticeable.
A New Millennium, A New Elizabeth
When the big ball dropped and 1999 became 2000, the world collectively cheered. Here we were witnessing the entrance of a brand new millennium. How did Queen Elizabeth celebrate this monumental moment? She officially opened the Millennium Dome, a dome shaped structure meant to house the Millennium experience. And while the Millennium Dome project was not without its flaws (or downright disasters), Elizabeth looked fabulous!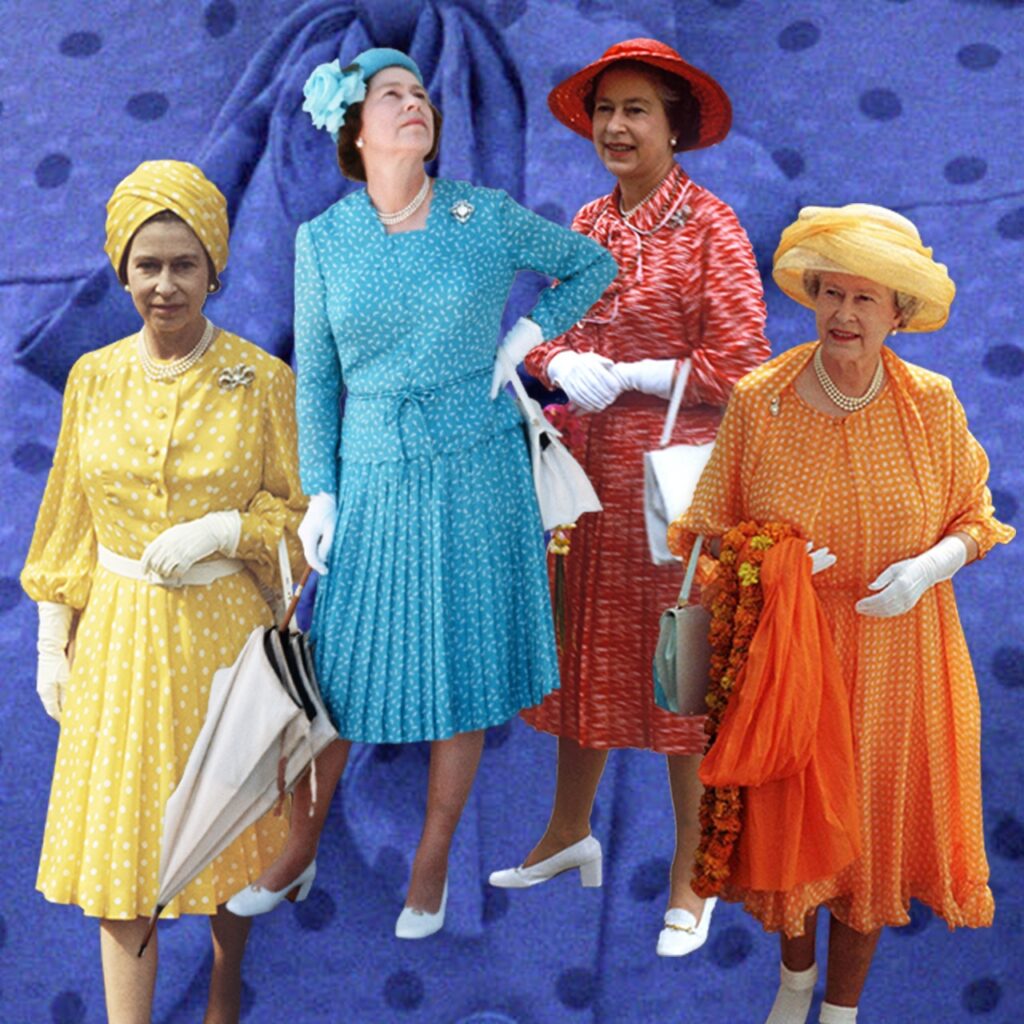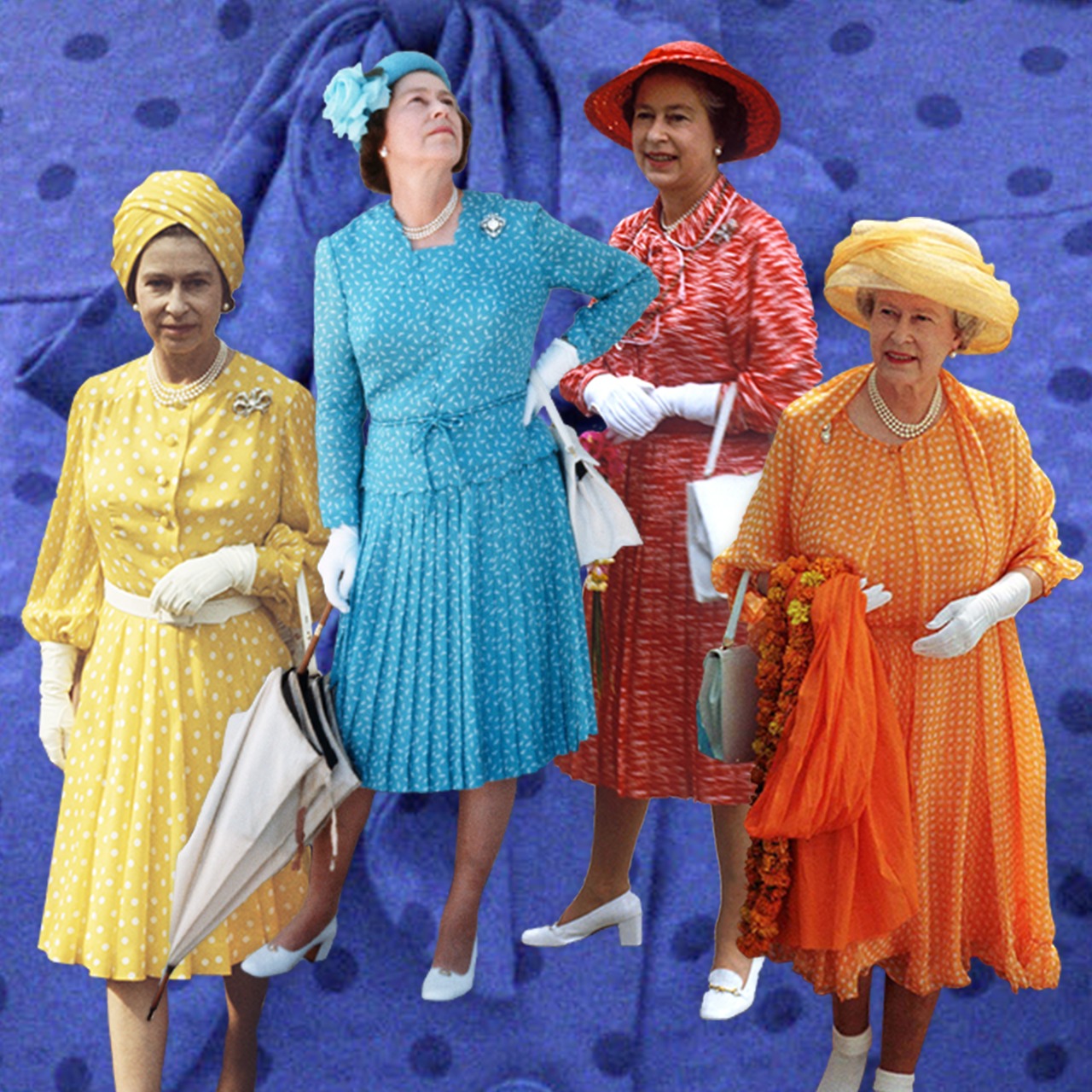 To ring in this new year and new century, Elizabeth wore a calf length orange coat and of course an accenting hat. And the dress underneath…that really did say it all. A purple dress with a white floral pattern that exuded both an air of whimsy and an almost astral nod toward the possibilities of what was to come. A perfectly fitting ensemble to mark the beginning of a new era.
The rest of the 2000s people saw much of the same as far as Queen Elizabeth's style choices, as her gown and dress selections did seem somewhat more eclectic than in previous decades. From more form fitting floor length tunic style dresses to fur-lined ultra-elegant pieces, Elizabeth's closet during this decade seemed to be a place of evolving theories on what the Queen of England should wear.  You definitely can't look at images from the early 2000s and say that she didn't have some fun with fashion.
As the 2000s segued into the 2010s and 2020s, Elizabeth turned once again to her bright and bold rainbow of colors where fashion was concerned. Perhaps even brighter than in her earlier years, the dresses and dress suits the Queen wears really make a woman who is now remarkably in her 90s stand out in a crowd. "Neon" actually springs to mind when seeing some of her outfits. And it seems she would have it no other way.
We need only glimpse pictures of William and Kate's wedding and then Harry and Megan's to see the Queen's flair for the dramatic where color comes into play. A stylish lemon colored dress and matching hat make the Queen one of the best-dressed at William and Kate's nuptials. While she chose a vibrant lime green dress and hat that was accented by a very bright purple feather display for Harry and Meghan's big day. Elizabeth knew the world was watching as Harry, one of England's most eligible bachelors, married the American actress, and on that day the Queen of England was most definitely ready for her closeup.
Confessions of a Royal Dresser…
At 94 years old, Queen Elizabeth is still considered to be if not a fashion icon, a woman for whom fashion is as much a tool in her arsenal as anything else. But are those daring bright colors, often eclectic hats and stylish handbag choices always hers? In other words, is there someone behind the scenes helping the English monarch choose the clothing and accessories that are best for her and have since come to be her signature style?
Angela Kelly has held the position of Her Majesty's dresser now for over twenty-five years. That is not to say that Kelly literally dresses Her Royal Highness, rather she chooses her outfits, those worn largely to major events, dinners and outings. She also is in charge of selecting accessories and yes, those hats as well. Kelly came out with a book not too long ago entitled The Other Side of the Coin: The Queen, The Dresser and The Wardrobe. The experiences of being the royal dresser, as outlined by Kelly, sound a bit more exciting than one might initially think. Then again there are also the more tedious tasks, such as breaking in the Queen's new shoes for her. Elizabeth hates that stiff "new shoe" feel.
Kelly talks about the Duke of Edinburgh's role in the Queen's wardrobe decisions. Not that Prince Philip had a huge say in what Elizabeth wore, however, Kelly mentions that on occasion she had to consult with Prince Philip to try and coax the Queen to change her mind about certain fabrics or hats. Most of the time, Elizabeth would take her husband's advice.
Given her age and what is required of her when in the public eye, what does Elizabeth look for most when it comes to her clothing? According to Kelly, largely the queen wants her outfits to be comfortable. Having to sit at public events and ceremonies often for long periods of time, it's no wonder the English monarch seeks that balance between style and comfort. And Kelly will go to great lengths to deliver. Perhaps this is why Elizabeth donning her neon-colored suits and trademark hat carrying her handbag, always seems happy to smile for the cameras.
Queen in Pop Culture
Obviously, there are no shortages of depictions of Elizabeth on movies and TV in the past few decades (in fact, it is estimated that she's been portrayed in just over 100 films and television shows). The world is fascinated by the Royals and Elizabeth is after all the matriarch of the family—and the country. Inevitably, in every depiction of her, whatever the genre, her fashion sense plays a pretty big role. Consider the following: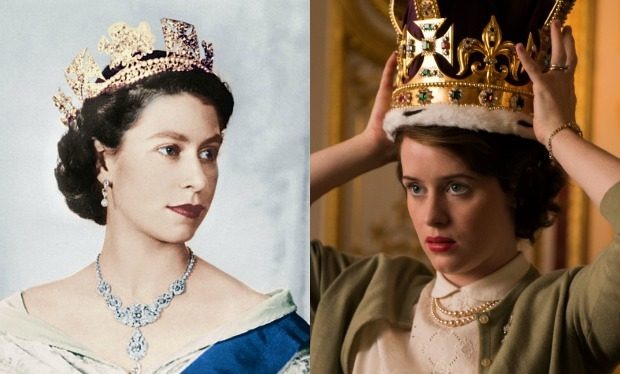 The Crown. Probably among the most widely seen depictions of Elizabeth, Claire Foy played Elizabeth during the early years. The coronation gown in those scenes was painstakingly recreated to ensure as much accuracy as possible. In fact, many outfits were duplicated with surprising similarity, right down to the elaborate broaches she often wore. Foy carried off Elizabeth's regal stature and still innate warmth in large part by virtue of the outfits worn. Olivia Colman then came on as an older Queen Elizabeth. From those unforgettable fascinators to her mink trimmed coats, Colman nailed the looks.
The Queen. A movie for which Helen Mirren won the Academy Award, The Queen shows Mirren perfecting not only Her Majesty's overall look (right down to how she wears her glasses) but her mannerisms as well. The combination of fashions worn and gestures performed are likely what enabled Mirren to nab the Oscar.
Playhouse Presents. Emma Thompson reenacts the events that transpired when in 1982 a man managed to break into the Queen's bedroom. And while the scene is filmed in the Queen's nighttime garb, there is still that unquestionable regal demeanor evident…even in her sleeping clothes.
SNL. Yes, Saturday Night Live has also had their QEII moments. Most notably as of late, Fred Armisen has done his take on England's reigning sovereign. And while it's certainly hysterical, one thing most people agreed on…he definitely nailed her style.
The Queen of England: Fashion Social Influencer?
Perhaps starting out an unlikely trendsetter where clothing was concerned, Queen Elizabeth has become a bona fide if not wholly unique fashion icon. Spotted from a distance, her look and signature style are unmistakable. And as seen on social media, the same can be said.
Most would be hard-pressed to call a 94 year old a social media influencer in light of her outfit choices, and yet simply google "Queen Elizabeth fashion" and see what pops up. Of course, the Royal Family does have their own social media accounts. Their Instagram account is currently dedicated to honoring the memory of Prince Philip with newer as well as throwback pictures. The Royal accounts have also been used to mark special occasions, send out heartfelt birthday wishes and introduce some of the newest members of the British royal clan.
More specially however, when it comes to the Queen's style there are numerous "less authorized" accounts on various social media platforms that spotlight those quintessential fashion moments for which the monarch has become so famous. For example:
Queen Elizabeth II (fan page). Spotlighting some memorable moments in Her Majesty's life, the account also focuses on her unique fashion sense. Her signature hats are always featured and in some photos we even get to see the Queen with a coordinating face mask.
Queen Elizabeth Fashion. This is an account dedicated solely to, you guessed it, the Queen's fashion choices. It tends to focus on the solid bold color coat and hat choices that we've seen more and more of as of late from Her Majesty the Queen.
Royal Style Watch. An account that focuses on all royals (not just Elizabeth), of course it can't help but nod to the OG fashion maven of the royal clan. In one post she is described as wearing a "green is for hope coat."
HM Queen Elizabeth II. Another fan page, this is dedicated to all things Elizabeth. And so her fashion style and outfit choices have most definitely become a central feature here.
While this may be a far less likely place to find images and videos of England's monarch, they are out there. In fact, #queenelizabeth brings up quite a few results, all having some fun with this 94 year old fashion icon. Definitely worth checking out!
Queen Elizabeth's Fashion Sense: Timeless and True
Perhaps the one thing we can all say definitively about the Queen is that regardless of the decade, regardless of what happens to be going on in the world, regardless of major life moments, she always seems to remain poised and fashionable as only she can. Her style choices (and those of her royal dressers through the years) may have hinted at the decade's trends, but first and foremost there has been a timeless quality to the dresses, coats, suits and of course those hats.
Dubbed by some as the "queen of color," Elizabeth blends her timeless approach to fashion with what is even more important: being true to herself and her spirit. While the head of the British Royal family may seem prim and proper, that burst of blue or the pop of green or that trailblazing red allow her feistiness and zeal for life to come shining through.
Perhaps her fashion and style can best be summed up by one of her own observations on life: "Let us not take ourselves too seriously. None of us has a monopoly on wisdom." In terms of the Queen's style, it truly does reflect that balance between a royal committed to the responsibilities and seriousness of her role and at the same time, a woman who likes to have a little fun now and again as she embraces the less serious side of life, a queen who through her colorful array of outfits, inspires others to do the same.