Poshmark live selling is here AKA "Posh Shows" and so far, this is what we know.
Today launched the FIRST public viewing of live selling through the Poshmark marketplace.
As of now, Poshmark live selling is in its beta phase which means, a select group of Poshmark users were offered to be beta testers.
Beta testers are granted access to the newest live selling feature before the public. As a beta tester, their job is to test the feature, report any bugs, issues, and input to better the feature.
With Poshmark live shows beginning Sept 22nd, we cannot help but wonder, what is it like? Is it going to be just like the app Whatnot?
Before we begin, I would like to give a massive thank you to Poshmark for direct messaging with us and giving use the facts about the new Posh Shows.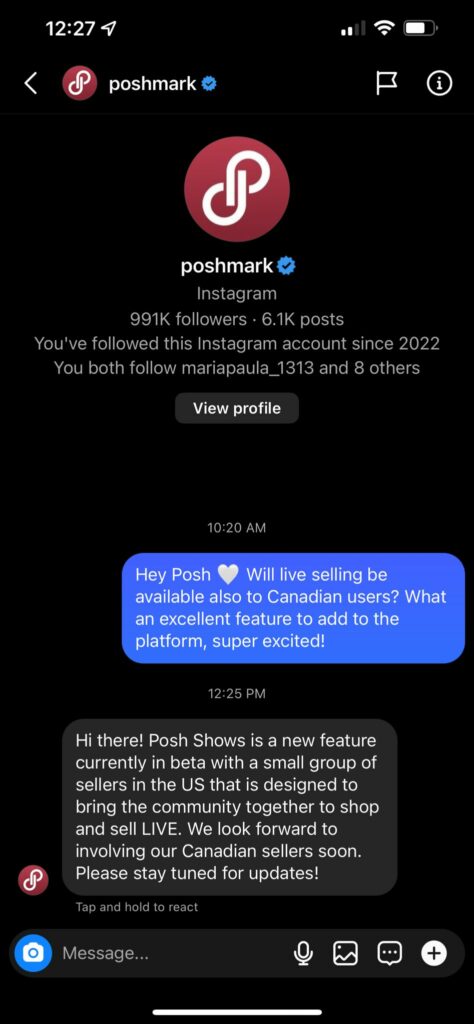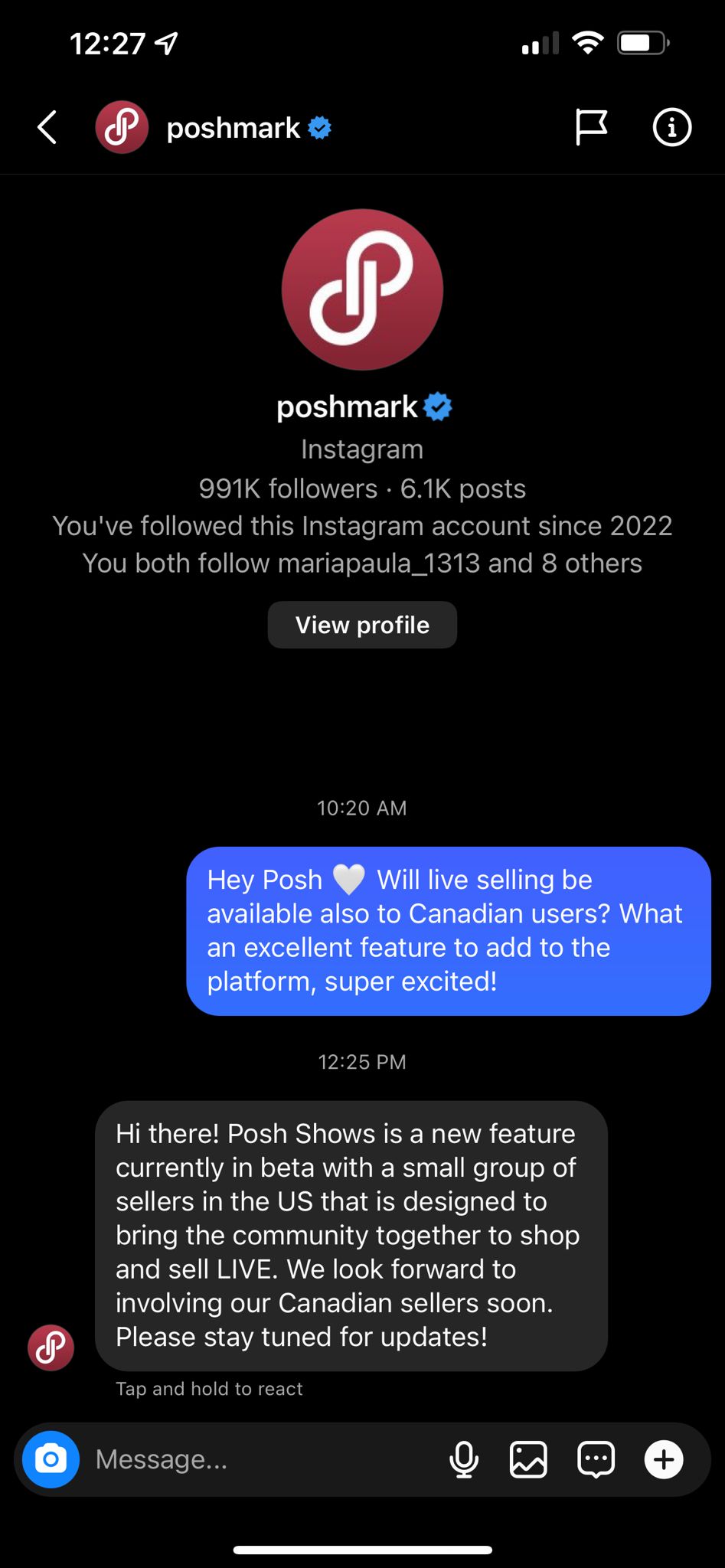 We went ahead and asked Poshmark whom clarified that for now, the Posh Shows are only open to the USA Poshmark platform. 
So many of you guys asked us here at Posh Sidekick if the Canadian Poshmark users will also be able to use Poshmark's newest feature. 
Poshmark is in fact working on bringing the Posh Shows over to Canada ASAP, which is amazing to hear! 
It is great to see all users globally being given the same opportunities as each other.
Live Shows Requirement:
Update Your Poshmark App!
Alrighty, lets dive right into these live Posh shows! 
First thing is first, in order to watch the live Posh Shows, you MUST update the Poshmark app. 
You can do so in the Google Play Store, Or Apple App Store.
After updating the Poshmark app, you are all set and ready to watch. As of now, these Posh shows are scheduled. 
The time frames we seen started at 9pm EST, 9:15pm EST, 9:30pm EST and 10pm EST.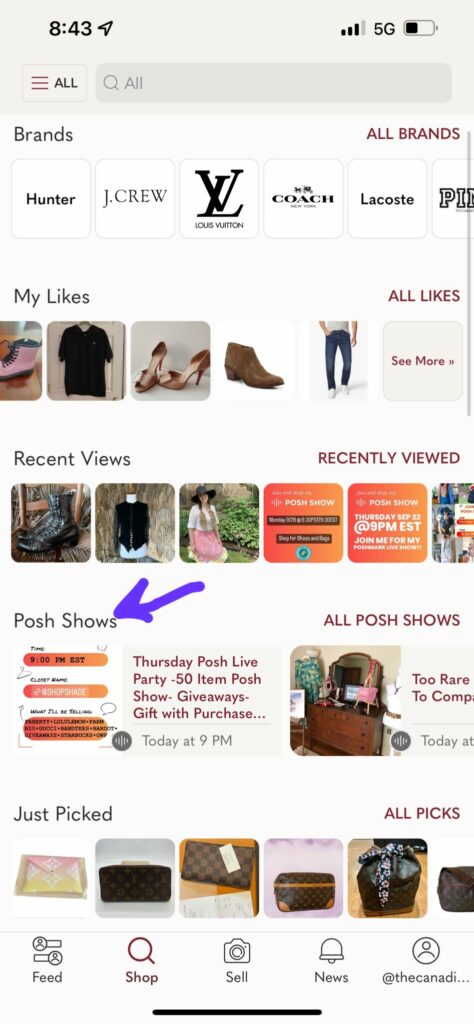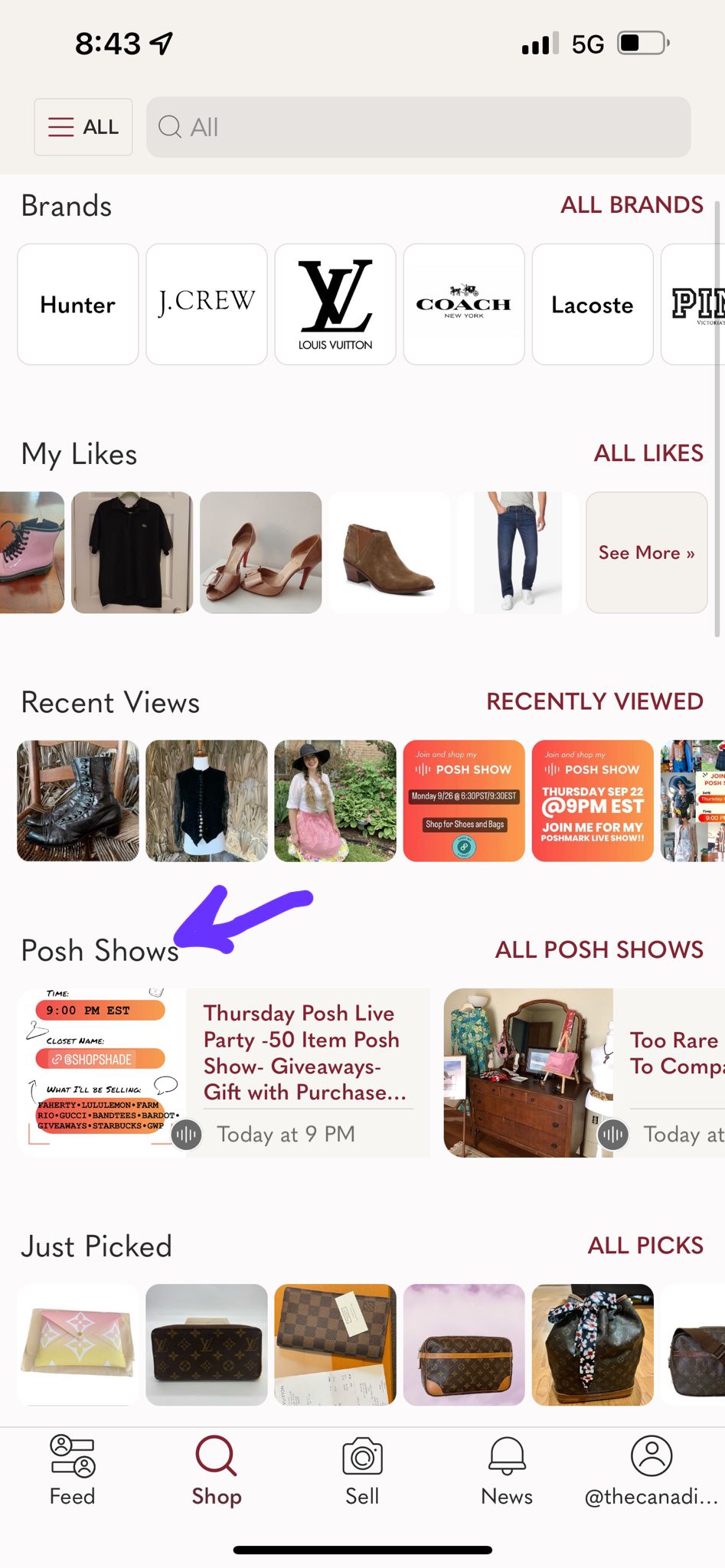 To find the Posh shows live section: 
1. Scroll down your main feed 
2. You will see the "Posh Shows" category. 
3. Click "All posh shows" to see the full line up!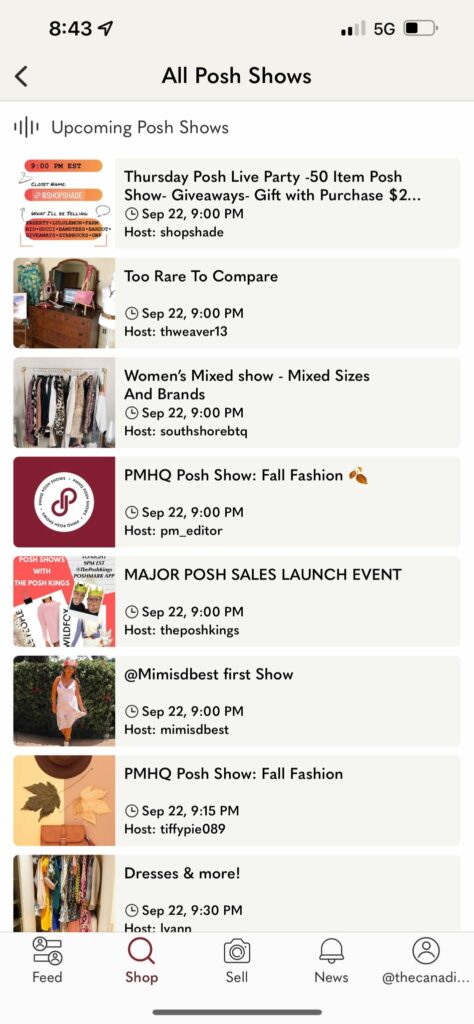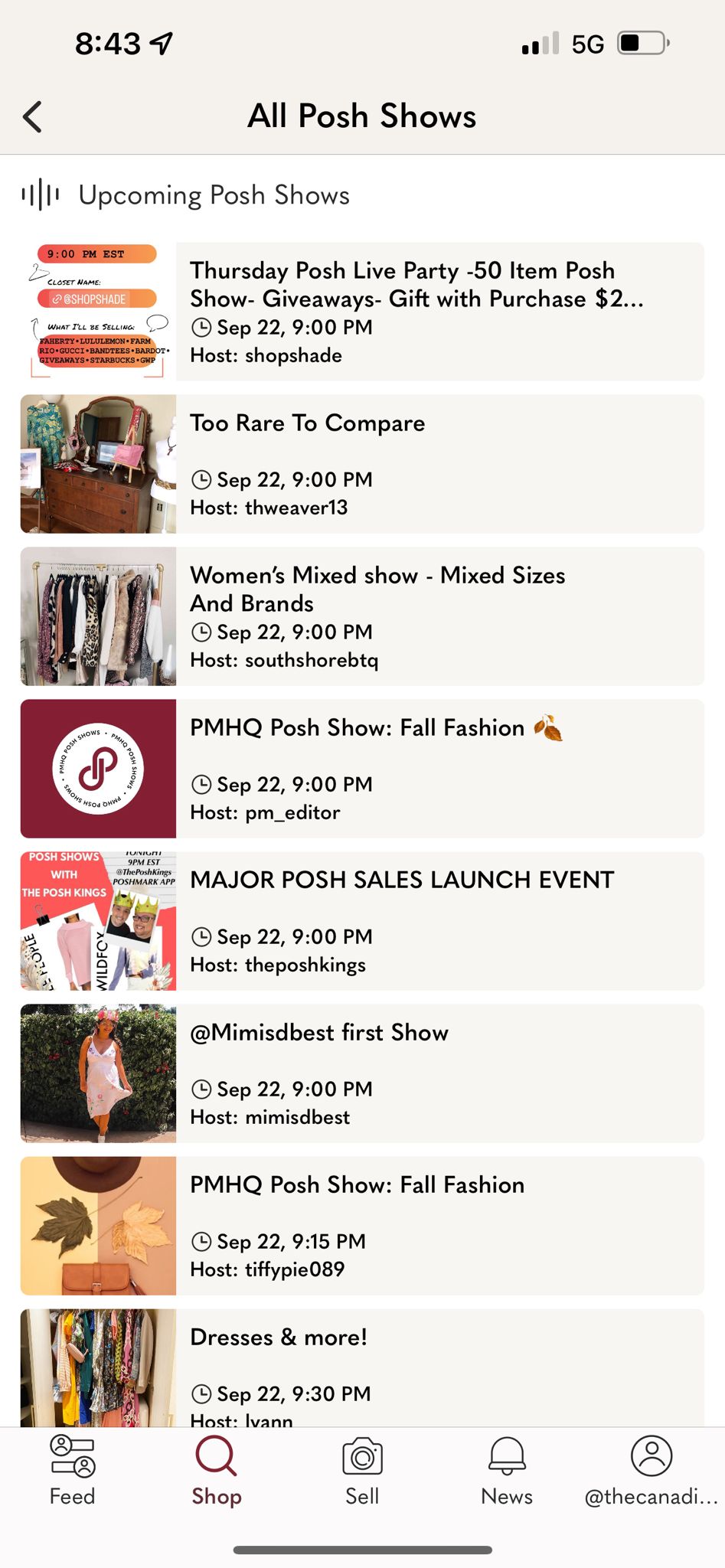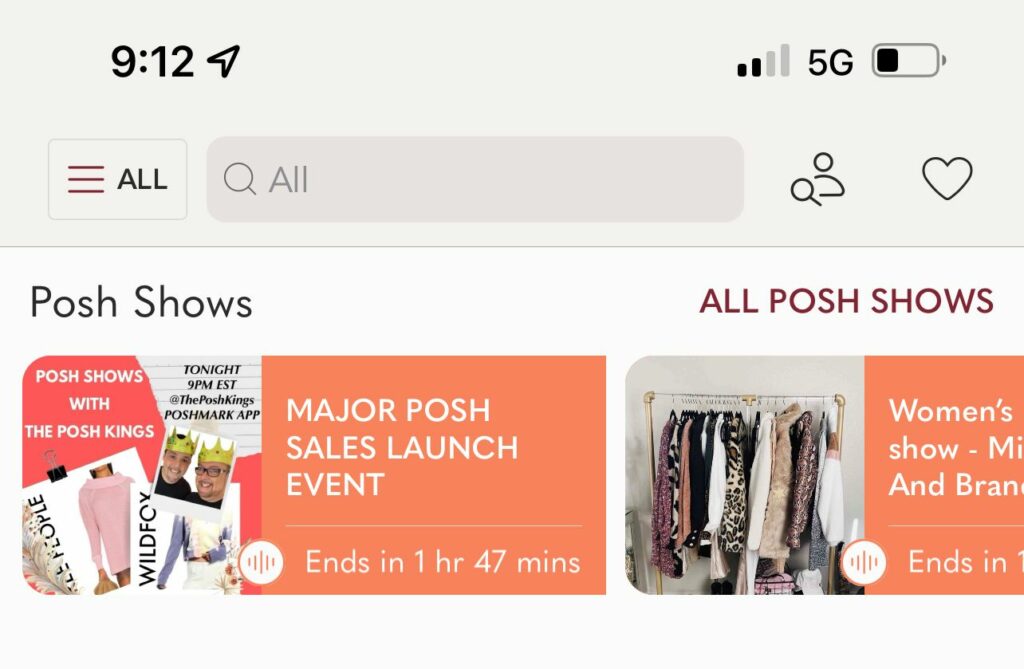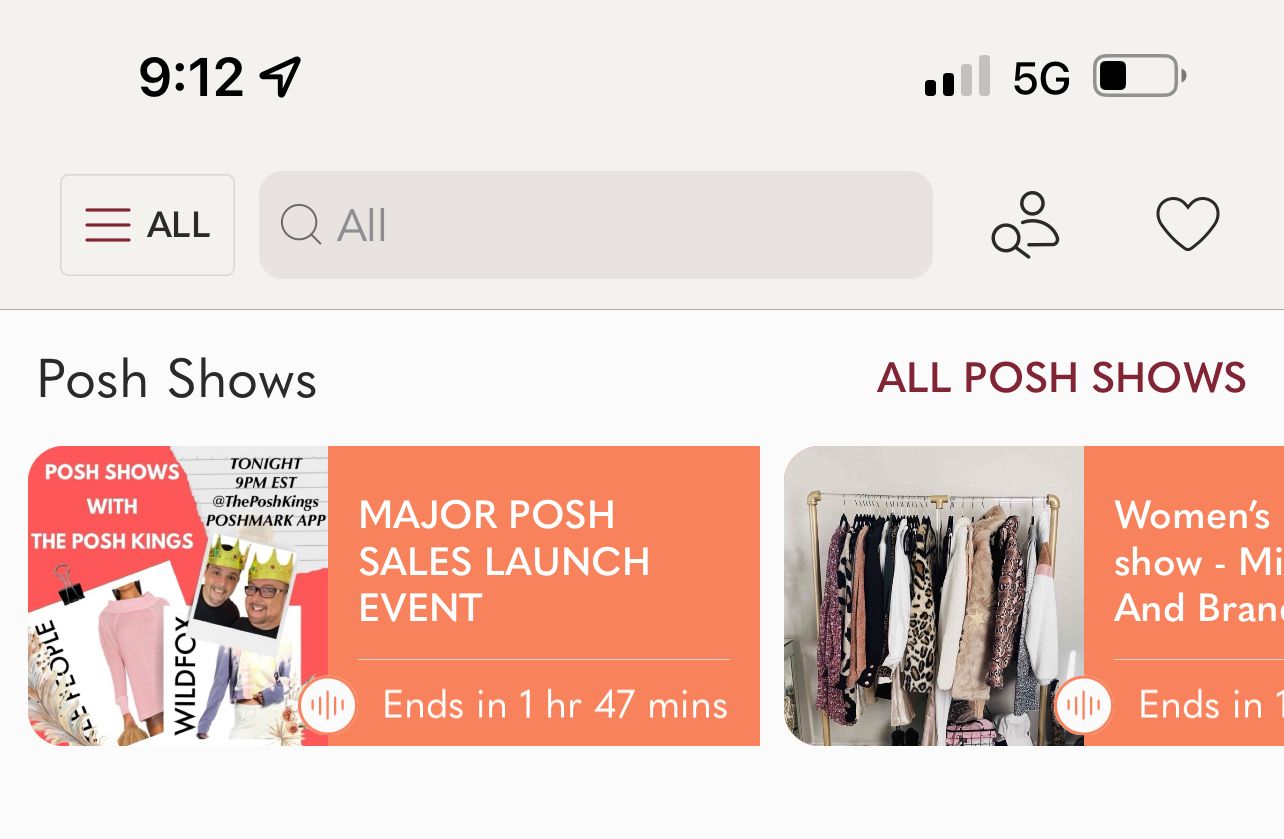 Joining a Poshmark Live Show
I joined @ThePoshKings live Posh show, which I will add was amazing! 
The first thing you will notice when you join the show is the live chat streaming across the screen. 
All viewers are able to live chat with the sellers and the other potential buyers in the room. 
You can also share the live show to a list of social media platforms, email and even saved link.
What is a Posh Show Like?
Selling live on a Posh show is auction style which means, everyone can bid or enter their custom bid. 
I tried bidding on a few items however I was instantly outbid. 
Buyers have anywhere from 15-30 seconds to enter their bid before the auction is closed. 
Basically, if you love the item, you better bid it and bid it high and fast. I placed a custom bid after a few unsuccessful bids which resulted in me winning the item! 
After you win the item, a small banner with confetti and your photo will pop up and congratulate you. 
Your purchase is automatically placed within your "purchase" tab. 
Posh shows are very straight forward, you can chat, you can bid, you can share the show and you can purchase.
If you absolutely HAVE to HAVE the item being presented, the "Custom Bid" button is to the left of the normal bid button.

Use the custom bid to quickly outbid the other buyers!
USE WITH CAUTION! 😛
Posh Shows have a different policy from the regular Poshmark buy/sell terms. 
When you purchase an item on Poshmark, you have up to 3 hours to cancel that item for a full refund. 
If you win an item at a Posh Show, you CAN NOT and I repeat CAN NOT cancel that win. 
All bids on a Posh Show are including wins are final and binding, there are NO takebacks! 
Poshmark also states that they are not responsible for technical issues, including disconnection from the platform, while buying or selling. 
If you place a bid and get disconnected, your bid WILL COUNT and be considered and binding. 
Make sure you have a solid internet connection when shopping these Posh shows. 
Of course, Poshmark etiquette during live shows are highly encouraged. 
Poshmark does hold the right to cancel or close and live show at any given time.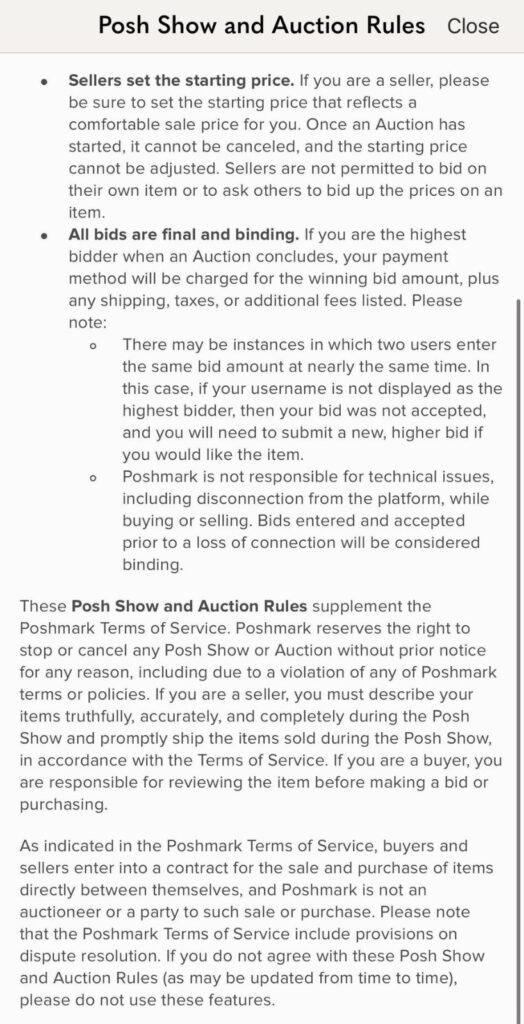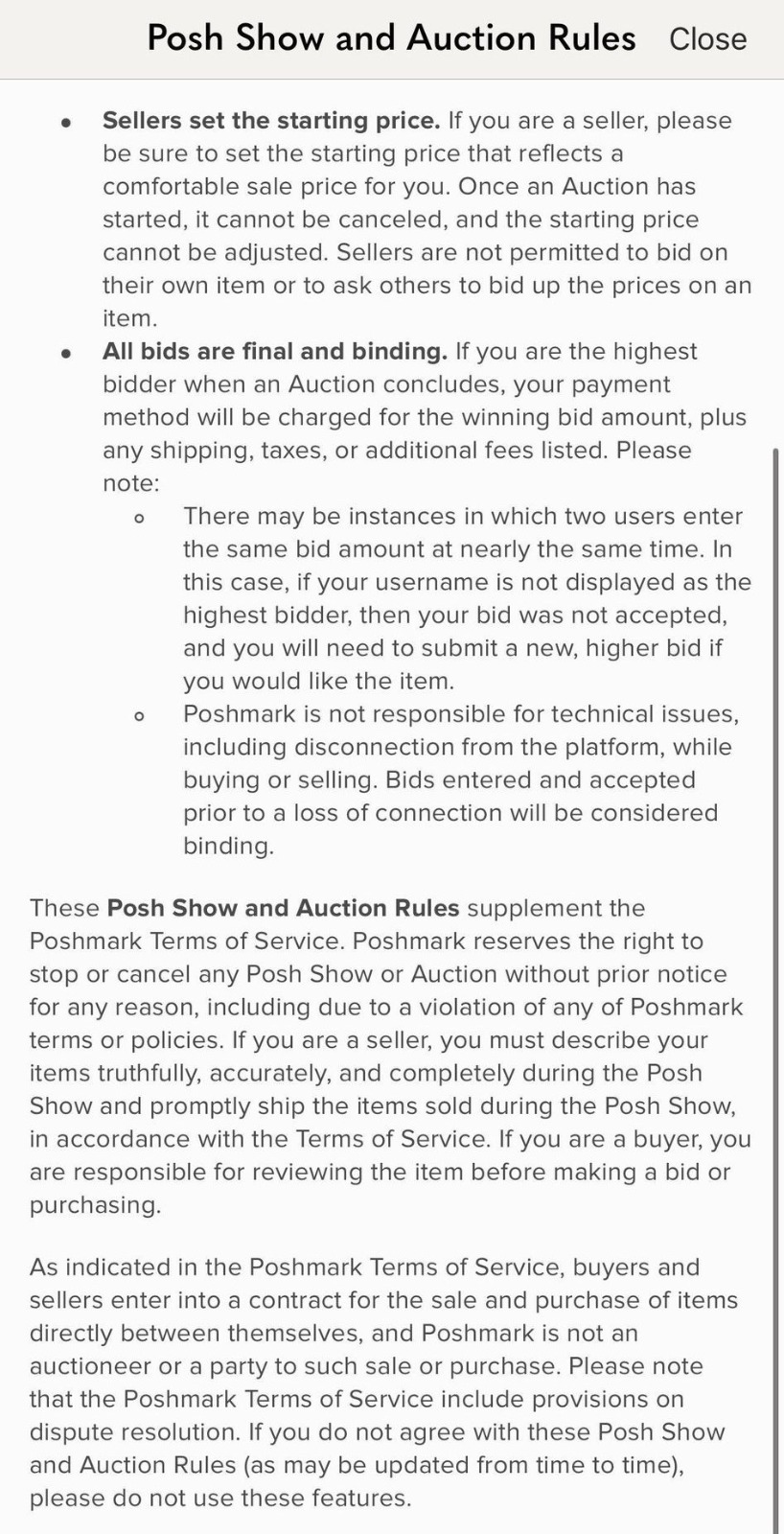 When I originally heard about the Posh shows, the introvert in me was melting like butter in the Bahamas. 
I wanted nothing to do with live shows, I thought they were only for the popular users. 
After watching all of the live Posh shows tonight, my mind had changed! The live posh shows are really fun… 
 Sellers were doing giveaways and playing games for prizes, there was some fun chat between the community in the live lisitng and everyone was just as confused and trying to figure everything out together.
Honestly, these Posh show lives are a total vibe. If you're unsure about the live Posh shows, just click into a show and check it out. 
You don't have to participate, you don't have to buy anything, you can watch and take in Poshmark's newest feature.