If you're an active Poshmark seller, you're probably aware of the struggle that comes with managing your overflowing closet. Between adding new items and trying to clear out old ones, it can feel like an endless cycle of organizing and reorganizing. However, with a new year comes a new opportunity to start fresh and clear out all the old items in your Poshmark closet once and for all.
In this blog, we will be sharing with you 7 tips to clear out your Poshmark closet fast. From relisting your items to pricing them correctly, we've got you covered with everything you need to know to get rid of old items that have been in your Poshmark closet for a very long time. The tips that we are going to reveal will not just help you maximize your profits by selling out all the stagnant inventory but also make room for new additions to your closets.
Don't let an overflowing closet stress you out in 2023. Follow these tips and you will be well on your way to a clutter-free Poshmark experience in no time. So grab a cup of coffee, put on some tunes, and let's get started!
Benefits of Clearing Out Your Poshmark Closet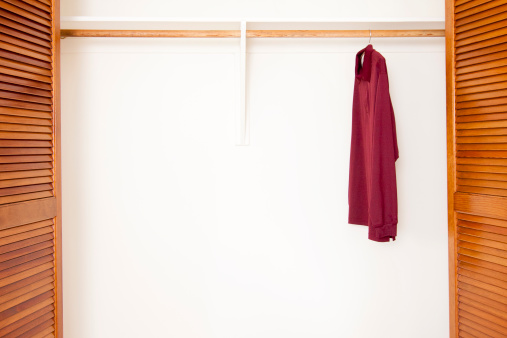 – Make Room for New Inventory
When your Poshmark closet is cluttered with items that haven't sold, it can be difficult to keep track of what you have and what you need to list. Clearing out your closet helps you create space for new inventory, which can be especially helpful if you're trying to grow your Poshmark business. Moreover, having a well-organized closet can make it easier to find and list items quickly.
– Helps Boosting Your Sales
When you have a large number of items listed in your Poshmark closet, it can be overwhelming for potential buyers to sift through. By clearing out your closet and only keeping your best items, you can make it easier for buyers to find what they're looking for. This can lead to more sales and higher overall revenue.
– Improves Your Brand Management
Your Poshmark closet is a representation of your brand. If your closet is cluttered and disorganized, it can be difficult to establish a clear brand identity. By clearing out your closet and only keeping the best-selling items that reflect your brand, you can create a more cohesive and professional image.
– Simplifies Your Life
Let's just face it, a cluttered Poshmark closet can be really stressful. It can feel overwhelming to have a large number of unsold items taking up space in your home and on your phone. By clearing out your closet, you can simplify your life and reduce your stress levels. In addition, you will have more space to store the items that you do want to keep.
7 Tips for Clearing Out Your Poshmark Closet Fast
1- Organize Your Poshmark Closet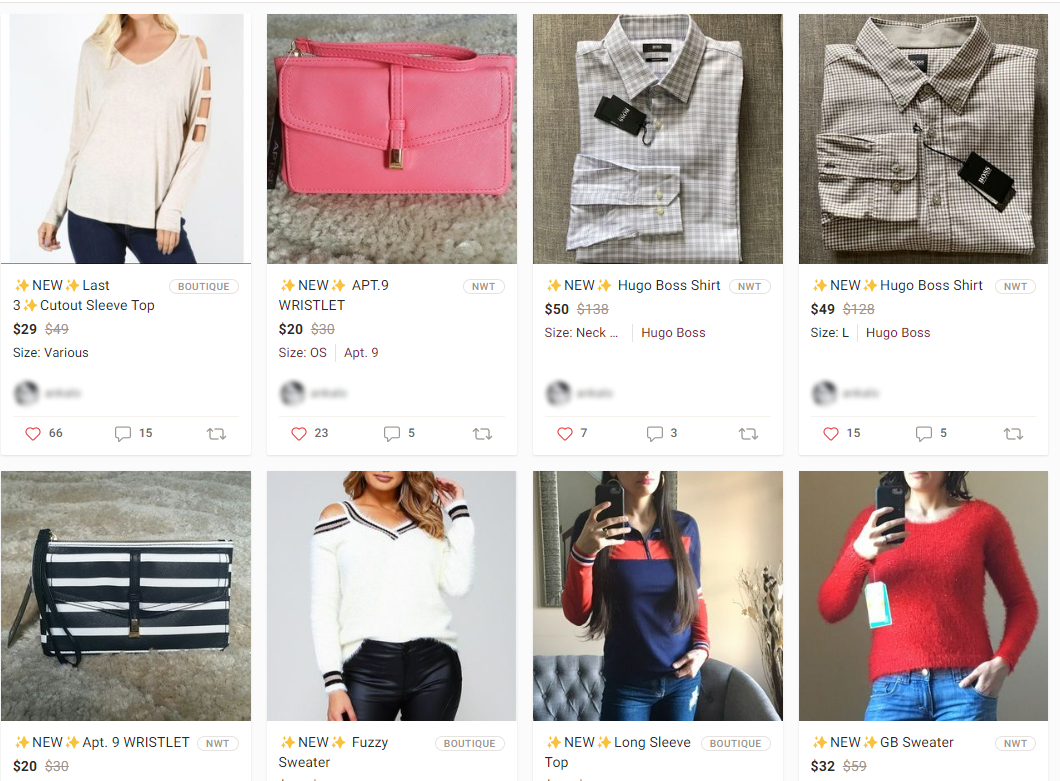 Organizing your Poshmark closet is a task that may seem daunting at first, but is one that can significantly help in clearing out the closet.
When your closet is clutter-free and easy to navigate, potential buyers are more likely to find what they're looking for and make a purchase.
Moreover, when you organize your items by category or theme, you can create a more cohesive and visually appealing storefront that will entice buyers to stick around and browse.
And it's not just about making sales or clearing out the closet, organizing your Poshmark closet can also save you time and energy in the long run.
When everything has a designated place, you can quickly and easily find what you need and avoid the frustration of searching through a disorganized mess.
2- Relist All The Items That Are Not Selling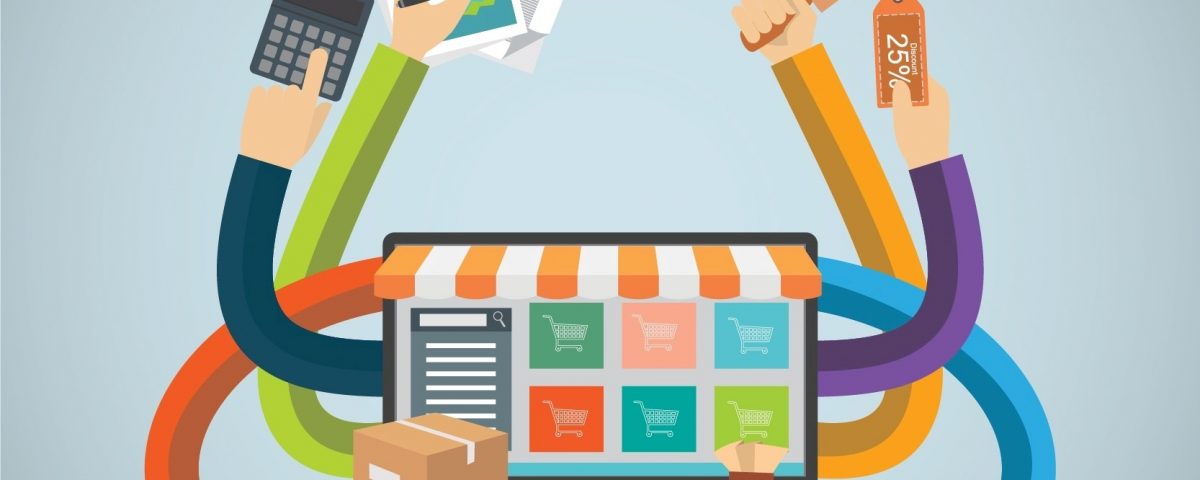 One effective strategy for clearing out your Poshmark closet fast is to give your unsold items a second chance by relisting them.
Perhaps your previous listing's photos and descriptions didn't do your item justice, or maybe it just didn't catch the right buyer's eye. Whatever the case may be, relisting is a smart move to increase the chances of a sale.
Take the time to reevaluate your listing and make any necessary adjustments. Consider offering a bundle deal to entice buyers or even updating your cover photo to create a fresh new look.
By relisting your unsold items, you can breathe new life into your Poshmark closet and clear out those stagnant pieces in no time. So, what are you waiting for? Relist all your old items and watch your sales start rolling in!
3- Find Smart Ways to Increase Your Closet's Visibility
There is no way you can clear out your Poshmark closet without putting any effort into making it visible to the buyers on the platform and the best way to boost the visibility of your Poshmark closet is sharing.
Sharing is the bread and butter of Poshmark. It's what makes the platform go round, and it's also the key to increasing visibility for your closet.
When you share your items, you're essentially making them reach the entire Poshmark community. This means that more people will see your items, and you'll have a better chance of making a sale.
But sharing isn't just about getting your items in front of more eyes, it's also about building relationships with other Poshmark users.
When you share other people's items, they're more likely to return the favor and share your items in return. This can lead to increased exposure, more followers, and ultimately, more sales.
However, sharing on Poshmark is a hectic task and you might not have enough time to share items in your closet in an organized manner.
No worries, there are automation tools like PoshSidekick that enable you to smartly automate the sharing on Poshmark.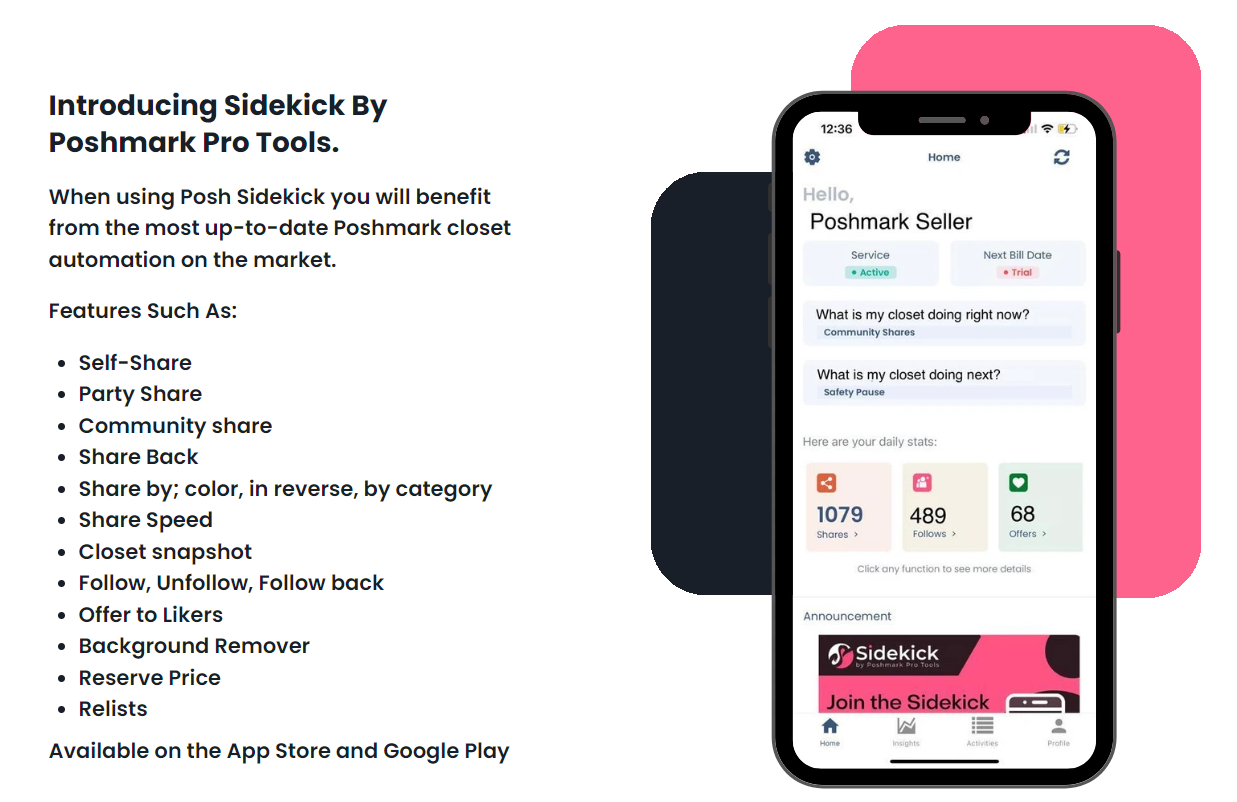 With PoshSidekick, you can do sharing on Poshmark with just an app. No matter if it's self-sharing, party sharing, or community sharing, PoshSidekick will do optimized sharing for increased visibility.
Moreover, with the PoshSidekick app, you can get relisting done on Poshmark within seconds!
4- Offer Bundles and Discounts
One of the reasons why you are struggling to clear out your Poshmark closet is that you are not offering any discount or bundle offers to your buyers. Bundles and discounts are simple solutions to help you clear out your virtual wardrobe faster.
Yes, that's right! Offering bundles and discounts is one of the most effective ways to entice potential buyers and move your inventory quickly.
By grouping similar items together and offering a discounted price, you not only increase the perceived value of your items but also create a sense of urgency for buyers to take advantage of the deal.
But don't just stop at bundles! You can also offer discounts on individual items to sweeten the deal and encourage buyers to make a purchase.
Whether it's a percentage off or free shipping, any type of discount can make a significant difference in attracting buyers to your closet.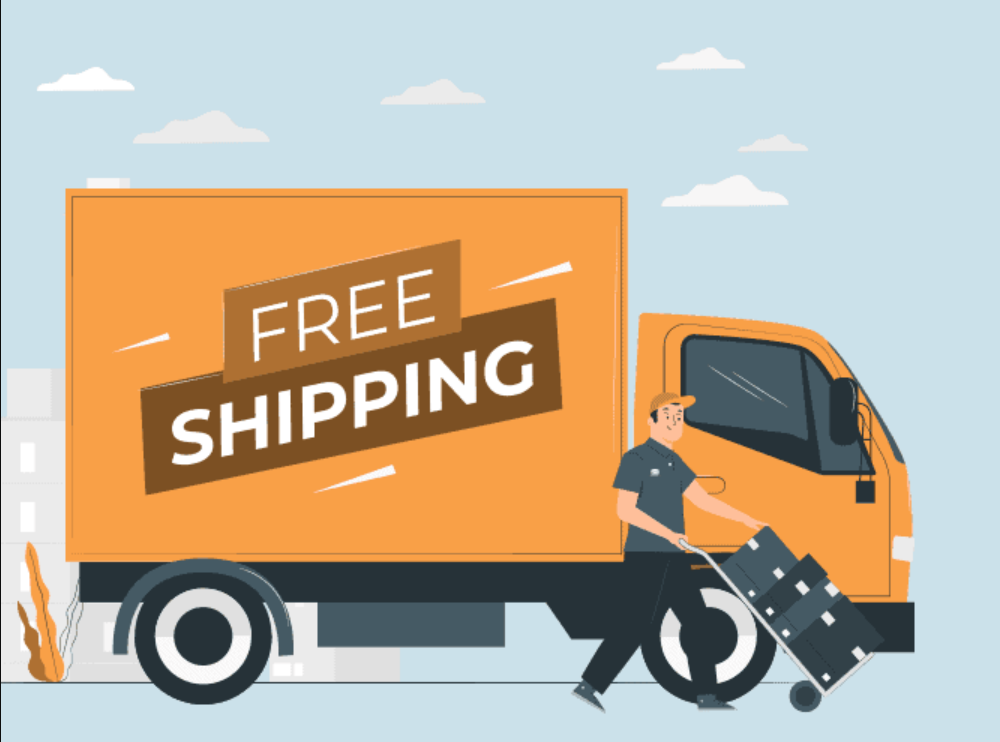 So, what are you waiting for? Start brainstorming bundle ideas and discount options to make your Poshmark closet stand out and clear out old items fast!
5- Consider Lowering Your Prices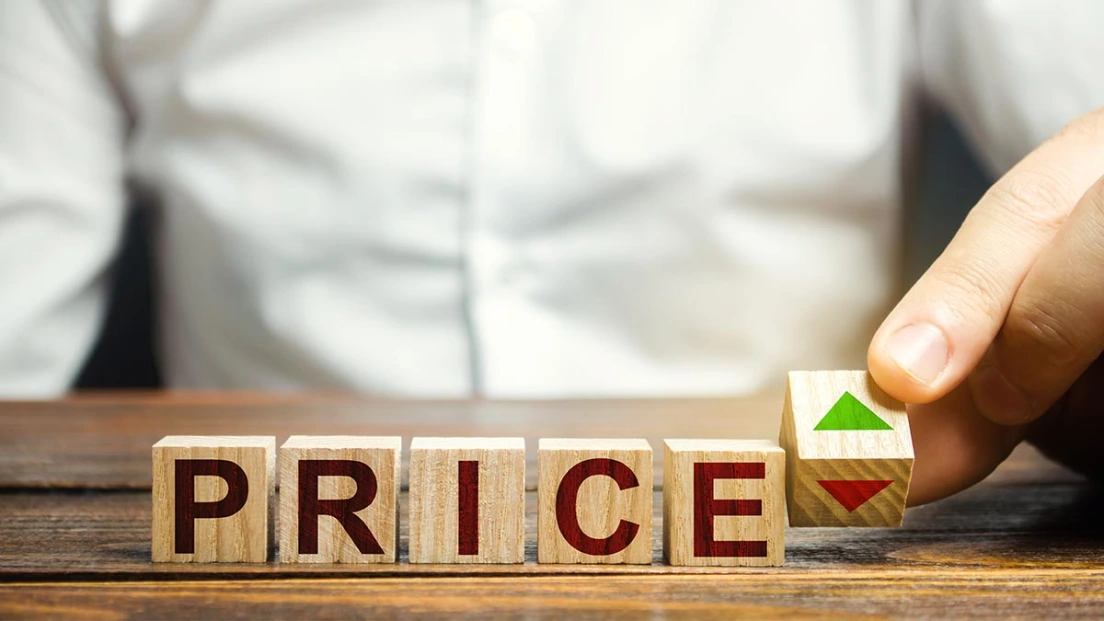 If you really want to clear out your closet then consider lowering your prices. As much as we all love a good deal, price is often the biggest factor in whether or not someone will make a purchase on Poshmark.
Take a look at your closet and think about how much you paid for each item. Now, think about how much you would be willing to sell it for in order to clear it out quickly.
If you're not sure where to start, consider researching similar items on Poshmark to get an idea of what other sellers are charging.
Of course, you don't want to give away your items for pennies. So, make sure you're still making a profit, even if it's a small one.
You can also offer bundle deals or free shipping to sweeten the deal for potential buyers. Another option is to offer a discount to buyers who have liked your item but haven't made a purchase yet. This can be a great way to incentivize people to finally hit the "buy" button.
When it comes to pricing, it's important to strike a balance between making a profit and making a sale.
If an item has been in your closet for a while with no interest, it may be time to consider lowering the price. Remember, the goal is to clear out your closet, not hold onto items indefinitely.
6- Stay Engaged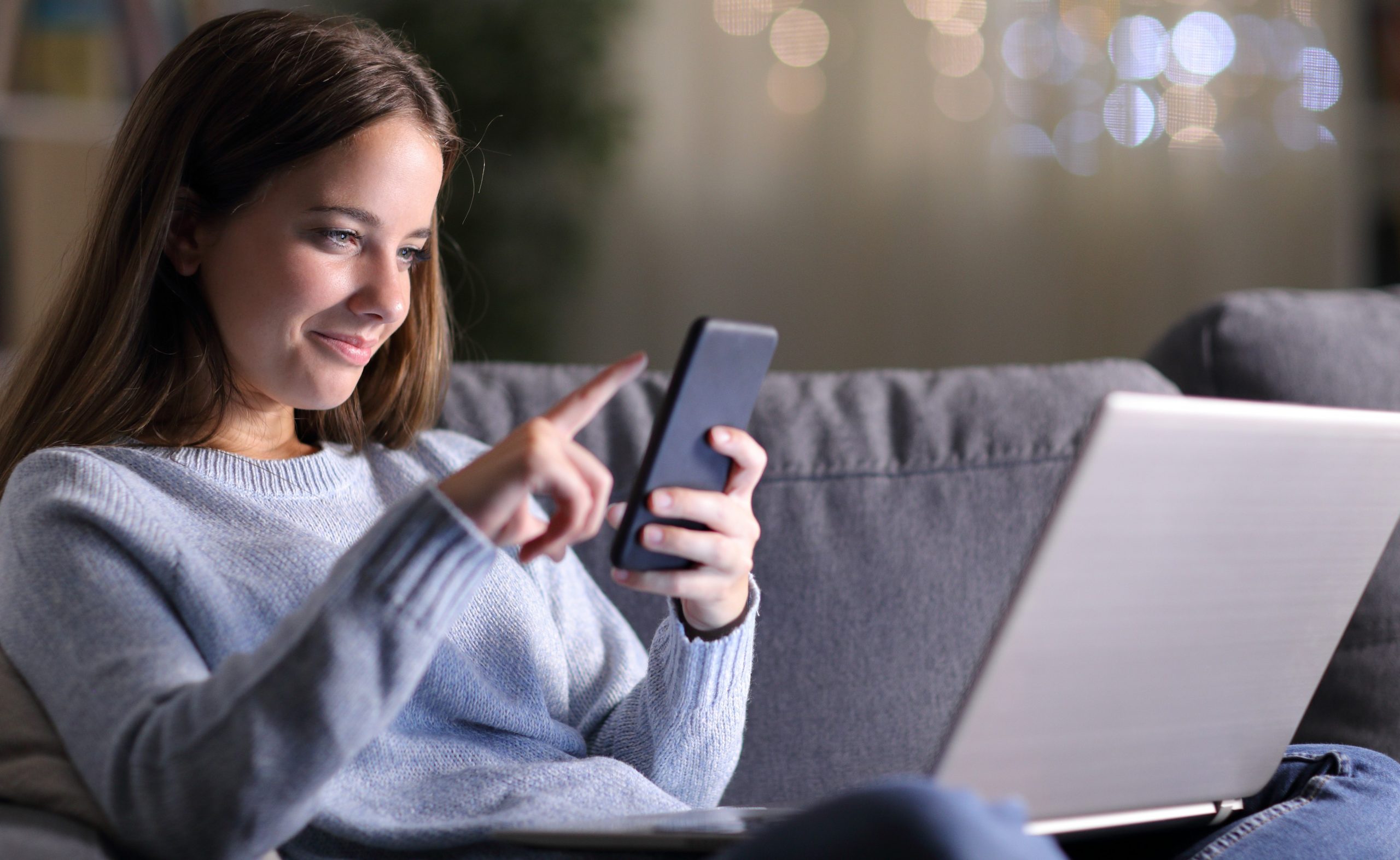 One of the most important things you can do to clear out your closet fast is to stay active and engaged on the platform!
Yes, that's right. You need to be proactive in your approach to clear out your Poshmark closet. Don't just list your items and sit back, hoping for a sale.
No, no, no! Instead, stay engaged with your buyers! Respond to their questions quickly and efficiently.
Offer top-notch customer service that will have your buyers raving about you to their friends. And, if you're feeling desperate for sales, be willing to negotiate prices to make that sale happen.

Why is staying engaged so important? Well, it's simple. By building a loyal customer base, you'll be more likely to make sales in the future.
Think about it – if someone has a positive experience buying from you, they're more likely to come back for more! And, who knows, maybe they'll even tell their friends about you, too.
So, don't be a passive seller. Get out there and engage with your buyers! You'll be amazed at the difference it makes in your Poshmark selling success.
7- Join Posh Parties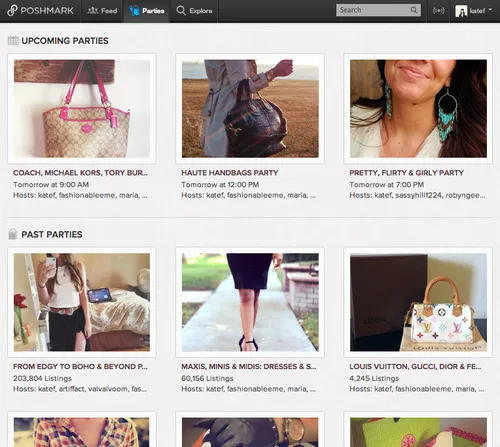 By joining Posh Parties on Poshmark, you'll not only be able to connect with other fashion enthusiasts, but you'll also have the opportunity to showcase your own items for sale.
These themed parties offer a platform for you to curate your own mini-boutique, highlighting the pieces you're ready to say goodbye to.
Imagine it now, you're sifting through your closet, pulling out those items that no longer spark joy.
You're wondering how on earth you'll find someone who will love that pair of shoes or that dress as much as you once did. But then, you remember the power of Posh Parties.
You snap a few photos, add some catchy descriptions, and voila! Your items are now part of a virtual marketplace filled with like-minded fashionistas.
But the benefits of Posh Parties don't stop there. By participating in these online events, you'll also be able to discover new trends, styles, and designers that you might not have otherwise come across.
You'll have the opportunity to network with other sellers and buyers, potentially building long-lasting relationships that go beyond just one sale.
So, my seller friend, if you're feeling overwhelmed by the clutter in your closet, don't despair! Join a Posh Party and let the magic happen. Who knows? You might just find that clearing out your closet leads to a whole new world of possibilities.
Hope you find our "7 tips to clear out your Poshmark closet fast" helpful. Keep following PoshSidekick for more Poshmark selling tips.
Frequently Asked Questions (FAQs)
Q: How can I prevent the Poshmark closet from getting cluttered again in the future?
A: Make a habit of regularly going through your closet and selling or donating items that no longer serve you. Consider implementing a one-in, one-out policy where you only buy new items to replace ones you've sold or donated.
Q: How often should I clear out my Poshmark closet?
A: There is no set frequency for clearing out your Poshmark closet, but it's a good idea to do it at least once a season. This allows you to rotate in new items and keeps your listings fresh.
Q: What should I do with items that don't sell on Poshmark?
A: If an item doesn't sell on Poshmark, you can consider relisting it at a lower price, donating it to charity, or selling it on another online platform or in a physical consignment shop.
Q: How can I clear out my Poshmark closet quickly?
A: Some tips for clearing out your Poshmark closet quickly include pricing items competitively, bundling items to sell as a set, promoting your closet on social media, and relisting your old listings.