Halloween is only 13 days away; it is time for the Posh Sidekick annual "The 13 oddest items on Poshmark" blog 2023 edition. This year, I included ALL the Poshmark platforms to partake. I have searched everywhere leaving no listing unturned, from Australia to Canada, from the UK to the USA and across to India. There were no shortages of odd, spine-chilling, mind-bending listings this year! Without further ado, we invite you to sit back and prepare yourselves for what you are about to see. Disclaimer, We at Posh Sidekick are not responsible for any nightmares this post may create.
In no order, below are the 13 oddest listings (in our opinion of course) listed on Poshmark, with links!
13 Oddest Items on Poshmark You Can Buy
1- Skinwalker Ranch Shape-Shifter Mask Hand-Spun Straw Wall-Décor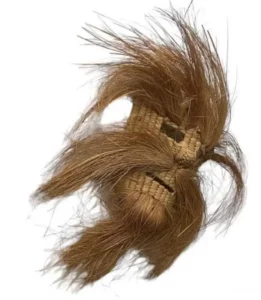 The "Skinwalker" legend is absolutely terrifying, just as spine chilling as this mask! The listing even discloses a warning before you even hold it. Imagine someone opens a Poshmark case for the reason the item is haunted!
"If you know, you know…
**Due to sensitive nature of the phenomenon this mask represents, it is strongly advised before handling this item that a protection ritual/spell be performed in order to avoid any negative attachment towards the handler."
This item is still available for sale, HERE.
2- Creepy Italian Stitched Body Doll, Vintage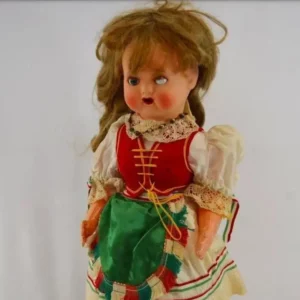 This listing is coming out of Poshmark Canada. Those vintage dolls that blink send me running however, there is a market for them…of course.
If this doll is your cup of tea, it is still available for sale, HERE.
3- 2 REAL Eastern Box Turtle Shells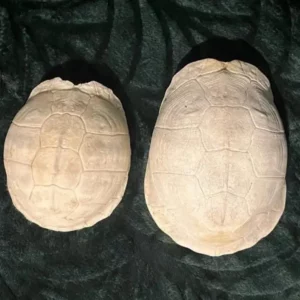 While scrolling through my feed, mixed in with Prada and Dior I found these 2 REAL eastern box turtle shells. It's not every day you come across a pair of turtle shells on Poshmark.
To purchase or view this item, visit the link HERE. There is even a 3rd shell for sale.
4- VTG Metal Crucifix Jesus Wall Art Parsons Heavy Funeral Casket Coffin Cross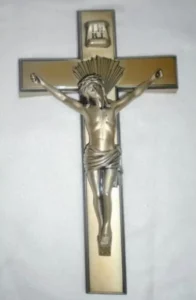 Lord, give me the strength to get through this blog. I am at a loss of words HOWEVER…Imagine sending Jesus a lowball offer. This is one of those items you purchase at full price and move on.
This item is still available on Poshmark (USA) you can purchase it HERE.
5- Vintage 35 mm Slides Rare Funeral Photograph Slides Color Macabre Morbid 1969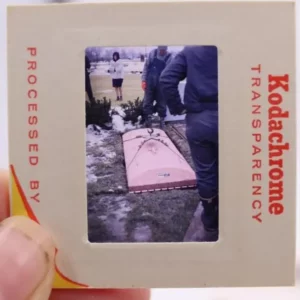 If the other items did not catch your attention, this sure has! Curious, what category would you put poor uncle Larrys funeral slides under? I will say this is one heck of a thrift find if that is where it was found of course.
"Vintage 35 mm Slides Rare Funeral Photograph Slides Color Macabre Morbid view 10 color slides with still shots of a 1969 funeral. You will see a coffin being lowered, family grieving, fashion, alter and priest images. vintage 1969 this lot comes with 1 negative that contains 2 photos."
Lucky you, this item is still for sale. You can check it out or purchase HERE.
6- 1930's composition cloth baby Doll 21″ blonde human hair wig open close eyes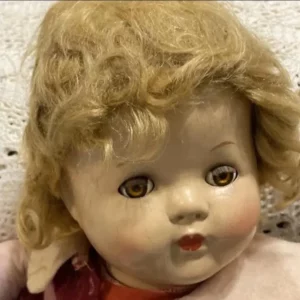 Most Vintage and Victorian dolls did have a luscious head of hair, usually it would be horsehair. This doll takes it to the next step with a head of HUMAN HAIR. This doll is nearly 100 years old which leaves me with one question…HOW did the curls last on this human hair for nearly 100 YEARS? What in the Pantene Pro V is going on here?
You can add this to your collection as it is still available! Check it out HERE.
7- Red Beans (Sutra, Hybrid) Beans Vegetable 15 Seeds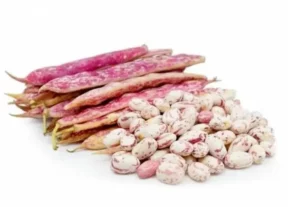 Poshmark India has entered the room. I could not find much on the India platform however, coming across an account that only sells beans, seeds and veggies was most definitely ODD for a fashion driven platform.
The listing is full of information. This person is really spilling the beans!
"Common Name :Beans, Red beans, Egyptian kidney bean, Indian bean, French bean
Scientific Name : Phaseolus vulgaris
Beans are a wonderful food that can be used either as a green vegetable or an important protein source. Bush beans differ from pole beans in the fact that bush beans don't need any kind of support to stay upright.
The kidney bean is a variety of the common bean (Phaseolus vulgaris). It is named for its visual resemblance in shape and – for the red variety – colour to a human kidney. Red kidney beans should not be confused with other red beans, such as adzuki beans. Beans Use Bush beans with round pods are commonly eaten as snap beans.
Bean pods are effective in lowing blood sugar levels. Dried pods are particularly to be used in conjunction or rotation with other efficacious herbs. Immature pods are used for a culinary purpose, frozen or canned. Beans Care Plant where they will receive a minimum of 5 to 6 hours of full sun per day.
Bush beans grow best in well drained, organic material rich soil. Plant need full sun to produce best. Apply any organic fertilizer (Vermicompost, Stear Meal,Neem Cake ). Plant bush bean seeds about 1 1/2 inches deep and 3 inches apart. If you are planting more than one row of bush beans, the rows should be 18 to 24 inches apart. The bush beans to germinate in about one to two weeks."
If you live in India and you are in the market for some beans, seeds and veggies, this shop is for you.
Still available, HERE.
8- Troll Vintage RUSS Pink Yellow Jumbo Large Clown Jester Plush Troll Doll 24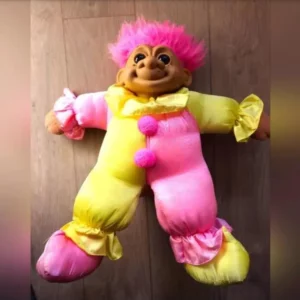 Oh, Australia I am coming for this listing. This troll has been through it. I can feel the odd energy coming through the screen! The bright colors, the old troll hair, the clown outfit. This listing is a case for Ghost Hunters or Zak Bagans without a doubt.
Want it, need it? It's still available HERE.
9- Queen Victoria jubilee medal extremely rare original antique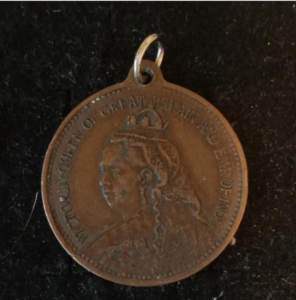 I found this listing across the pond on Poshmark UK. It actually is a beautiful pendant; however, Queen Victoria is absolutely horrifying on this coin. The sternness is something we are not used to within political photos today. If you believe in ghosts, you know metal like copper holds onto energy. What was the original owner doing when they received this coin, were they at the event…
Add this piece of British history to your collection, it's still available HERE.
10- Roach on Bathroom Tile looking at Mirror Framed Wall Art oddity cockroach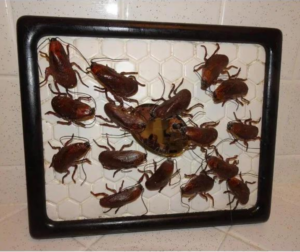 The gift for someone who has EVERYTHING.
This holiday season, ensure your guests don't stay late by hanging this lovely Roach themed wall art in your home. These are NOT real roaches. The seller did an excellent job describing this listing, better than I would have done.
"This amazing listing is for a roach art wall hanging. This oddity art features:
White, brown, and inky black colors
Artist created the roaches by using Atlantic ribbed mussel shells (so neat!)
Legs are feathered with an epoxy gel to give it a roach leg look
Craft wire antenna with black epoxy gel
A total of 16 roaches with most of the headed towards the oval shaped mirror at the center
Really awesome background made with hexagon shaped bathroom tiles with caulk as the grout in
between
Real wood frame that was painted black * wool felt on the back to prevent surface scratching
A wire extends across the back to easily hang from a nail in the wall
Artist: Roger Swezey Condition: Fantastic! Tiny scratch on the mirror.
Please see the last photo. These small flaws are not very noticeable, and it does not take away the beauty and integrity of this unique art piece. Size: Height is 9 inches Width is 11 inches Depth is .80 inches This amazingly spooky art would look great in your home next to your oddities and weird things. Don't miss your chance to snatch up sure a rare and unique find!"
You would never believe me but, this item is STILL AVAILABLE. Purchase it HERE.
11- Vintage Ceramic Macabre Pig Doll in Floral Dress and Bloomers Rare HTF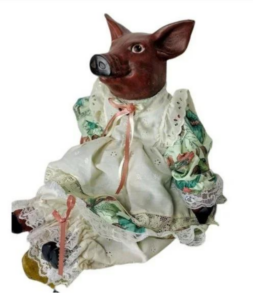 Ok, this one is intense, giving off major Babe in Toyland vibes! What is even scarier is that, this pig-doll has a handmade dress tailored for it. I want a handmade dress tailored for me…pfft.
Here are the listing details;
"Vintage ceramic/porcelain pig doll, ceramic head, hands, and feet with a plush body wearing a beautiful floral dress and bloomers with lace and ribbon detailing. approximate measurements height:21″ width:7″ *great gently used item, this item is used vintage and may have barely visible imperfections due to normal wear, please look closely at all photos as this will be the best description of the item"
Still available HERE.
12- Envelope/locket mourning ring with lithograph 1867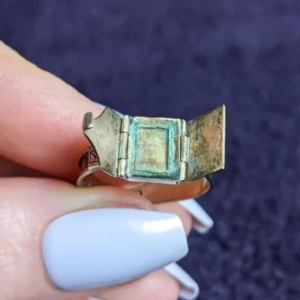 This is a beautiful piece of ancestry if it were your family member. This mourning ring includes a picture of the deceased person. Looking rather old, I would say this person was born close to the year 1700.
"9K yellow gold and black enamel 1867 mourning envelope / locket ring with lithograph of man this ring is not sizeable though solid gold, sizing will damage the enamel"
Add this item to your collection HERE, it is still for sale one Poshmark USA.
13- Vintage Glass Jar w/ Cicada Skin on Stick oddity curiosity insect molt goth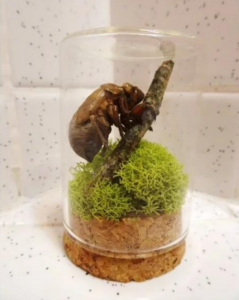 If your skin isn't crawling yet, let me leave you with this last listing! Perfect for the bug collector in your family I present to you, 15 -17 years in the making…CICADA Skin on a STICK.
Here are the listing details, in case you were curious;
"This amazing listing is for a mini jar with a cicada skin.
This uniquely odd item features:
Cute cylinder-shaped mini glass vile with a cork bottom
Wonderfully textured green moss at the base
Cute large cicada skin climbing a twig
Looks awesome displayed in a cabinet of curiosities or shadowbox
Perfect for any insect enthusiast
a unique find for any cicada or oddities lover
Label: No label.
Made by me.
Condition: Perfect! Size: Height- 2.75 inches Width- 1.75 inches
This beautiful cicada molt display will spice up any cabinet or curiosity or shadowbox. Don't miss your chance to snatch up this unique find."
You guessed it, it's STILL available HERE.
Well, that was some blog post. I hope you found this blog interesting! All photos belong to the sellers which are linked (not affiliated). Check out these items if you DARE.